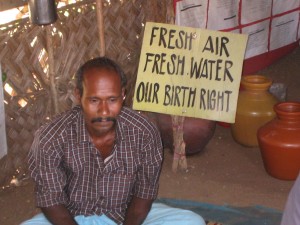 Most pollutants are insidious – we often can't see, taste, or smell them, and often we don't feel their effects on our bodies right away. Yet the World Health Organization estimates that pollution causes up to 25% of deaths and diseases in developing nations, with numbers reaching up to 35% in sub-Saharan Africa.
In Kampala, Uganda, a recent study demonstrated that 14% of children between 8 and 14 years of age have bronchial asthma, which is believed to be tied to high rates of air pollution. And the number of related illnesses and fatalities is likely to increase: the Organisation for Economic Co-operation and Development (OECD) projects that by 2020 the world will have seen an 85% increase in the output of global chemicals over the course of 15 years.
Thinking about how to prevent pollution or manage its effects can feel overwhelming, but change is possible. Groups such as GroundWork, whose Bucket Brigade sparked a clean air movement in South Africa, or the workers that advocated for the passage of the Right to Know ln New Jersey to learn about workplace chemical exposure, teach us that with determination and the right health information, communities can mobilize to make real changes and work against toxic pollution.
Governments are starting to recognize that pollution and its role in climate change pose real risks that need prompt solutions. On Monday, President Obama acknowledged that climate change will have a "host of public health impacts" that need to be addressed quickly, and through collective effort. 
This growing recognition is undoubtedly due to the work of medical professionals, activists, and community members who have spent many years researching, organizing, and pushing law-makers to acknowledge the deadly effects of pollution. If you are among those working to make these changes possible, we hope you will take advantage of Hesperian's resources to provide access to clean water, prevent harm from pesticide use, avoid workplace exposure to pollutants, and mobilize communities for the right to clean air, water, and a healthy environment.