For the past 20 years, the Pachamama Alliance has partnered with Achuar people in the Amazon to stop extractive industries from encroaching on the land rights of native peoples, create alternative sustainable industries, and promote a worldview that honors and sustains the values of indigenous people and the health of the earth. In 2007, Pachamama Alliance launched the Jungle Mamas program to support the health and rights of indigenous women, and to link these issues to greater understandings of community and ecological wellbeing.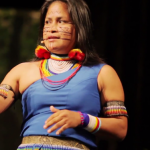 Jungle Mamas started when Narcisa Mashienta, a Shuar leader, married into the Achuar community and moved deeper into the Amazon — to an area without roads and hospitals. In her new home, she saw the many hardships women in her community endured. Achuar women would walk into the jungles alone to give birth, and often performed physically demanding labor in their gardens while breastfeeding or pregnant. Unlike her community of origin, women's voices were not represented in local leadership.  
With the help of Jungle Mamas' director Margaret Love, the American College of Nurse Midwives, and Hesperian's A Book for Midwives, the Jungle Mamas began holding workshops on reducing risks for expecting mothers in the Achuar communities. Eventually, Narcisa Mashienta and the Pachamama Alliance began working with One Heart World-Wide in 2012 to create a curriculum for a health worker training program focusing on maternal risk prevention and prenatal care.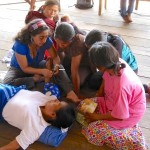 Since their first workshop in 2007, the Jungle Mamas have trained 59 health workers on how to do prenatal evaluations, attend births, and do post-partum checkups, and have reached nearly all of the 73 Achuar communities in the region.
And there have been other impacts on the civil society: as men have come to understand that the liberation of their families and communities depends on the health of their wives and daughters, and have seen the efficacy and effectiveness of the community health workers, there has been a concomitant increase in women's leadership. For the first time, women have been elected regional presidents!
The Jungle Mamas plan on taking their trainings a step further, to begin tackling domestic violence using Hesperian's new title Health Actions for Women. Robin Fink, the Jungle Mamas Program Director for Pachamama Alliance, believes that Health Actions for Women will help start "culturally appropriate conversations about domestic violence in a culture where it is normalized" in a way that does not force the worldviews of the facilitators or program leaders upon participants, but promotes an understanding that "if the health and wellbeing of mothers is safeguarded, the family will be well, and the community and nation will also be well."