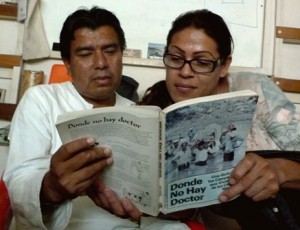 Gratis Books is a donor-supported fund to provide free books to health workers who cannot afford the cost of purchasing and shipping Hesperian's health guides. Run entirely by volunteers, Gratis Books sends thousands of free books in response to requests from community health workers, school teachers, and others in resource-poor communities. Last year alone, over 1,300 books were sent to people around the world. Give the Gift of Health- support the Gratis Books Program!
Due to limited funds, we are unable to fulfill all the requests for free books we receive, and must give priority to requests from people living in poor countries who will be able to share the resources widely with others in their communities.
A note to US-based individuals and organizations: Because of other potential resources available to them, US-based organizations or volunteers, for example Peace Corps volunteers, are not eligible for free books, even when the request is for books to be used by local health workers. However, we are happy to consider requests directly from the community organizations with which you work.
Fill out the form below and if you have any questions or concerns please email us at gratis@hesperian.org. 
A successful applicant will fill out every field with as much information as possible.