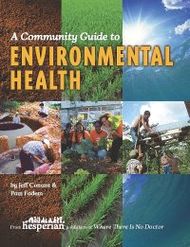 When A Community Guide to Environmental Health was mentioned in the New York Times last week, not only was it an encouraging recognition of our work – it also led to thousands of hits on Hesperian's website, especially the free downloads page, where you can read and download many of our books. For organizations like Hesperian that work largely behind the scenes and out of the public eye, media attention like this is a real boon – contributing not just to our book sales, but to awareness of the issues we work on.
The Community Guide, while it comes out of Hesperian's ethic of giving people the kind of basic health information they need to make sound choices, is also a departure for Hesperian. It covers a broader range of topics than most of our books (focusing not just on the human body, but on the wider ecosystem), and reaches into fields that are distinctly 'non-medical', such as watershed management and community monitoring of air pollution. As such, an important part of our media outreach has been to ask collaborating and supporting organizations to post notices, blogs, or other promotional plugs on their websites and in their newsletters. Organizations that have responded and have recently run postings include Rainforest Action Network, Grassroots International, Environmental Rights Action, and other groups. International Rivers ran a review in their recent newsletter, and we are expecting more reviews from International Development Exchange, Pesticide Action Network, and the Center for Health, Environment and Justice.
All of this promotion helps bring our work to a wider and more diverse audience. If your organization has a website or newsletter, if you post to listervs or keep a blog, please consider putting up a note about the Community Guide to Environmental Health (or any of Hesperian's books). It just might make a difference!