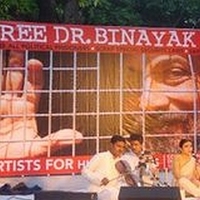 We wrote about the unjust imprisonment of Dr. Binayak Sen in an earlier blog. This past weekend, Hesperian staff joined with a number of local students, academics, and members of the Indian community to confront one of the Indian officials most responsible for Sen's continued imprisonment, Mr. Vishwa Ranjan, the Director General of the Police in the Indian state of Chhattisgarh.
Ranjan was in town to speak at a University of California-Berkeley seminar on Justice and the Law in India. Instead of enjoying a quiet presentation to accompany a vacation-like shopping spree, he was greeted by about 100 well-organized and well-informed people asking hard questions about a situation in which the denial of human rights has become endemic. A state of "low-intensity war" is claiming hundreds of lives in this part of India.
For Hesperian, the echoes from Central America of the targeting of health workers by the military and death squads were all too familiar. Just as in Central America in the 70s and 80s, dozens of mostly indigenous (or "tribal" as they say in India) villages have been burnt to the ground in a campaign of scorched earth and their inhabitants driven into concentration camps. A "self-defense" organization called Salwa Judum has been created by the government and the military, and armed to fight the Maoist insurgents (known as Naxalites) operating in the area. Just as with the "civil patrols" in Central America, these groups have no structures by which they can be held accountable for the murder and mayhem which they wreak upon any individuals or villages considered not sufficiently anti-communist.
The Director General gave a presentation in which he asserted the independent nature of the Salwa Judum, even though Human Rights Watch has released a report proving exactly the opposite. He also claimed that the human rights organizations and other NGOs were creations of the insurgent movement to further their anti-government aims. These kinds of irresponsible charges are incredibly dangerous for health, development, and human rights workers.
When pressed during the question and answer session about exactly of what crime Dr. Binayak Sen was accused, DG Ranjan first refused to answer "because the case was still going on." Finally he stated Dr. Sen was being held because he gave "logistic support to the Maoists." He did not say whether that meant providing food to the hungry, medicines to the sick, or education or training around health issues, activities in which Binayak Sen has been active for years among the poorest of the poor in Chhattisgarh.
Through our work in producing materials that can be used by people who are denied the right to health, Hesperian often comes in contact with committed health workers like Binayak Sen who are, like the people they live among and work with, all too often the target of human rights violations and violence. We join with Amnesty International and host of organizations in India and throughout the world calling for his release. Learn more about his case and how you can help.