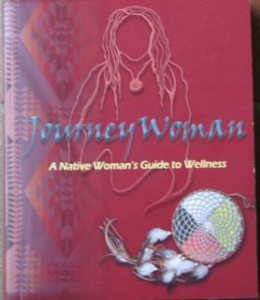 A wonderful example of our open copyright in practice recently arrived at the office—a new adaptation of one of our women's health books, called JourneyWoman: A Native Woman's Guide to Wellness, which used Where Women Have No Doctor for content and illustrations.
This beautiful health resource was produced by the Women's Wellness Program at NARA (Native American Rehabilitation Association of the Northwest) Indian Health Clinic. Founded in 1970, NARA NW is an Indian-owned, Indian-operated non-profit agency, originally focused on outpatient substance abuse. They now operate a residential family treatment center, an outpatient treatment center, a family resource program, and a primary health care clinic with a Women's Wellness Program (WWP) that provides women's health services to the urban Indian women of Portland, Oregon and surrounding towns. All NARA's services are centered on the family, its philosophy being "without the family circle there will be no future."
The JourneyWoman guide began when the Women's Wellness Program conducted over 30 in-depth interviews with women served by the program, to gain a better understanding of barriers to wellness for Native women. This project was called "Voices," and revealed barriers such as historical trauma leading to mistrust in the health care system, misunderstandings about and fear of health procedures and disease, and lack of a "native look" to health awareness materials. A major recommendation from "Voices" was the creation of women's health materials that were designed for Native women with a Native look. The women said they wanted one resource that brought together information on many women's health issues, not separate pamphlets for various health concerns. In 2006, The WWP received funding from the Centers for Disease Control and Prevention, the Choctaw Nation and Siletz Confederated Tribes to gather more community input and design a Native women's health manual. WWP staff conducted five focus groups with women from three area tribes. Women leaders in the community spread the word that NARA was creating this book, and stories, artwork and wellness tips were submitted for inclusion in the manual.
When samples of different manuals were evaluated by the focus groups, Where Women Have No Doctor was chosen by all of them as the best model in terms of reading level and layout for the Native women's manual. And while initially the manual was to focus on breast and cervical cancer, each focus group recommended a comprehensive view of women's health with personalized stories of Native women's experience with a range of wellness issues. The result is "JourneyWoman: A Native Woman's Guide to Wellness". The first edition of 4000 copies of JourneyWoman was printed in 2007and are being distributed to women who come to the clinic for their annual women's exams, and also to Native organizations throughout the country. The WWP says they have received amazing feedback from both urban and rural Native communities on the usefulness of this manual.
Many of the women involved in the development of the manual continue to volunteer their time to help give guidance to this project. The WWP hopes to create a Native Women's Council to help continue the journey and to seek funding for a second edition of JourneyWoman: A Native Woman's Guide to Wellness.