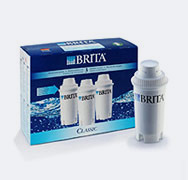 If you've been reading this blog for over a year you might remember that way back in 2007 Hesperian staff gave up our water coolers and opted for tap water because the company that delivered us bottled water had been bought up by Nestle! 
While tap water in the Bay area is officially "safe," some staff members were uncomfortable with the chloramines and fluoride added to the water by our Municipal Water District. So we decided to drink tap water, but filtered in pitchers through Brita water filters.
 
I was frustrated with so-called "disposable" plastic filter which seemed like it should work longer than three months and I wondered why it needed to be disposable in the first place.  Not to mention that Brita water filter cartridges can be recycled in Europe but not here in the U.S.  Well, guess what, I discovered there was an entire campaign to get Brita to take back the filter. There I learned that the Brita water filter company in North America is owned by Clorox! 
Well, guess what!  Take Back the Filter convinced Clorox/ Brita to team up with Preserve, a U.S. company manufacturing products from recycled plastic such as toothbrushes, razors, and other household products. I know them from their work to take back Stonyfield Organic Yogurt containers and turn them into toothbrushes (Hmmm, will they take my old toothbrush back?  I think plastic should be used only for non-disposable items unless absolutely necessary.)
Apparently, the faucet mount filters are made from a different type of plastic than the pitcher filters, so they are not part of the program at this time. However, Brita and Preserve say they are continuing to explore options to recycle faucet mount filters and hope to have a solution in the near future. (Read the full Press Release here.)
Things you can do…
• Contact your local Whole Foods Market and ask the store manager to join Preserve's Gimme 5 program. Each store can decide whether or not to participate in collecting #5 plastics, including Brita filters, for recycling. If you'd like to be able to bring your filters back to Whole Foods rather than mailing them in, please speak to the manager at the store near you. Local managers do respond to public opinion.
• Spread the word! Let others know that Brita pitcher filters will be recycled beginning in January and they should not be thrown into the garbage.