We are excited to share this media release for the Pakistan Medical Association's launch of the new Urdu edition of A Health Handbook for Women with Disabilities. PMA is a long-time partner of Hesperian and the publisher of Where There Is No Doctor, Where Women Have No Doctor, and A Book for Midwives in Urdu. Read the original article on DAWN.COM and see our Translations page for more information about how to find Urdu and other language editions of Hesperian books.
KARACHI: Health care for disabled women urged
By Faiza Ilyas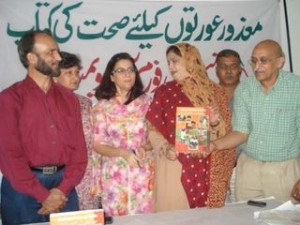 KARACHI, March 7: That women face hardships in our society due to gender discrimination and social inequalities is a well-known fact.
But there is little awareness about the problems encountered by physically challenged women especially those belonging to lower social strata.
With the social stigma attached to disability —which proves to be a greater barrier to a dignified existence than the disability itself — most of these women live a life of misery and pain at home, as they have limited access to education, healthcare and employment opportunities.
These views were expressed by speakers at the launching ceremony of a book: 'Mazoor Aurtoon Kay Liay Sehat Ki Kitab', a translation of 'A Health Handbook for Women with Disabilities'.
The book written by Jane Maxwell, Julia Watts Belser and Darlena David under the auspices of Hesperian Foundation has been translated and edited by Dr Shershah Syed and Rehman Zia.
The event organised by the Pakistan National Forum on Women's Health at the PMA house on Saturday.
It took the authors 10 long years to compile the 400 pages with the help and experience of women with disabilities in 42 countries — women whose disabilities include blindness, deafness, short stature, epilepsy, amputations, paralysis, learning difficulties, arthritis and cerebral palsy.
"The book provides basic information to help women with disabilities stay healthy and will also be helpful to those who assist women with disabilities to provide better care," said Dr Shershah Syed in his introductory remarks.
Highlighting some of its salient features, he said that the book contained information that could help women better understand and manage their disabilities. It also had useful advice on ways to improve their sex life, preparing for pregnancy and childbirth, choosing family planning methods, lobbying for their cause in community, taking care of their special equipment and defending against violence or abuse.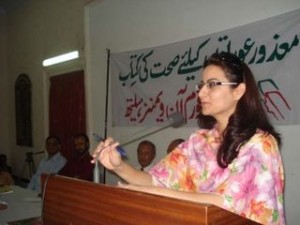 "Keeping in view the needs of women in remote areas who have little access to health facilities, some specific details about common drugs have also been included in the book. There is also a list of organisations working for the welfare and rehabilitation of physically challenged people in the country," he said, adding that some changes had also been made in the book in order to make it culturally relevant.
The handbook on physically challenged women, he pointed out, was the fourth book of the Hesperian Foundation that had been translated in Pakistan. The US-based NGO publishes health guides and educational material. The three other books are: the best-selling 'Where There is No Doctor', 'Where Women Have No Doctors' and 'Easy Midwifery'.
Talking about the problems disabled women faced, he said that they were a victim of discrimination from the very beginning of their life.
"Disabled women suffer on two accounts: disability and social inequalities based on gender discrimination. Parents are generally more willing to get the disability of their boy children treated at an early stage. But this is not the case with girls who are usually neglected and later develop permanent disabilities. This is the reason why there are more disabled women than men in the country. Around seven per cent of our population suffers from some form of disability."
Sharing his experiences, Farooq Baqali, who has been working with Special Olympics for past 20 years, pointed out that the significance of an encouraging home environment increased manifold if the family had a disabled child.
"Disabled people need support, not sympathy. My experience tells that usually such children fail to get the family support they deserve at home. Physically challenged women are treated like children and assigned no responsibility."
While there was a need to change attitudes towards physically challenged people, the government should come forward and do its job by setting up infrastructural facilities for the disabled, he added.
Dr Asif Aslam of Unicef-Sindh regretted that there were elements in society who opposed equal opportunities for women.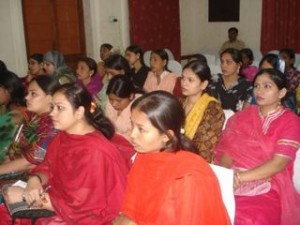 "No one says that job is the solution to all problems a woman faces, but it's a way to help them achieve a dignified life. By denying their right to education, health care and equal opportunities, do we want to make all women handicapped?" he asked.
The provincial Minister for Women's Affairs, Tauqeer Fatima Bhutto, who arrived almost two hours late at the event when it was about to finish, was the chief guest.
Dr Aziz Khan Tank, Dr Habibur Rehman and Dr Nighat Shah of PMA also spoke.