By Kate Dube, volunteer researcher for A Worker's Guide to Health and Safety.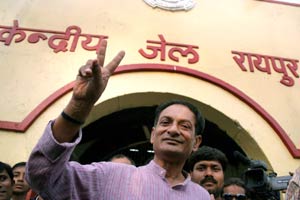 On May 25, the Indian Supreme Court allowed Dr. Binayak Sen to post bail and go home for the first time since his imprisonment on trumped up charges in Chhattisgarh state over 2 years ago. Dr. Sen is internationally respected for his work in poor communities for health and social justice. He is vice president of People's Union for Civil Liberties (PUCL), co-founder of the rural community health organization RUPANTAR, and winner of the 2008 Jonathan Mann award for Global Health and Human Rights. Read more about his unjustified arrest and the international campaign to free him here. 
While the release of Dr. Sen from jail is an important advance, the very serious charges against him have not been dropped. The shadow of a prolonged legal battle and trial still looms over Dr. Sen, his family and friends.
In an emotional interview with Crises Magazine 4 days after his release, Sen expressed his amazement regarding the activity of the broad international solidarity movements working on his behalf. "I cannot believe so many people beyond borders have supported me" he said with tears of joy in his eyes, referring to the 22 Nobel laureates who petitioned for his release as well as the "Free Dr. Binayak Sen" Facebook group of over 2000 members.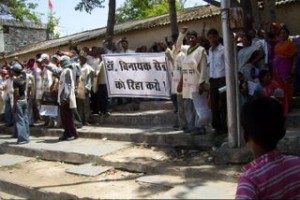 However, in the same interview he emphasized that his release on bail is a small event in comparison with the widespread violations of liberty and human rights which persist both within and beyond Chhattisgarh. "I consider myself lucky to generate so much worldwide support for my case, but what about others? There are hundreds more languishing in jails who are in a similar situation who do not have even have legal aid let alone the support. There are thousands who are being displaced from their land and their access to natural resources across India."
In recognition of this, even though Dr. Sen's case is not closed, the "Release Dr. Binayak Sen Committee" has officially changed its name to "The Committee For The Defense Of Democratic Rights In Chhattisgarh"  to address the broader issue of social injustices in Chhattisgarh state such as the recent state-sanctioned demolition of the Vanvasi Chetna Ashram.
"As human rights workers," Sen has declared, "we do not condone any form of violence. We feel this whole cycle of violence — either by the government or by the Maoists — is counter-productive, and political engagement is needed to delegitimise violence-based solutions."
Please go to http://www.freebinayaksen.org for information about the human rights of health workers in South Asia. Visit http://www.binayaksen.net to follow his case and the cases of his co-accused, who have yet to be granted bail.