Unreliable electricity endangers deliveries and surgeries, impairs the operation of essential hospital equipment and communications, and compromises the ability of health workers to provide safe, appropriate, and timely medical care. Without electricity, nurses cannot quickly notify doctors of emergencies. Midwives are forced to make treatment decisions without diagnostic tests or equipment. Procedures are conducted under very difficult conditions.
"If you would like to have an inkling of the significance of [electricity] to the people we serve, I recommend you set up a very difficult task in your home one night, one that requires concentration, clear focus, illumination, and is of life-threatening importance. Then…turn out your lights and try to complete your task. And no…you can't ask for help. That would require a remote communication system." –Dr. Laura Stachel, founder of WE CARE Solar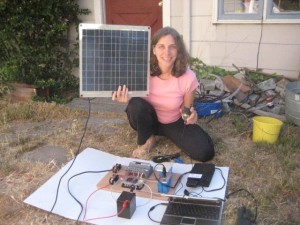 WE CARE Solar promotes safe motherhood and reduces maternal mortality in developing regions by providing health workers with reliable lighting, blood bank refrigeration, and mobile communications through the use of solar electricity. They have put this cutting edge technology to use as a solution to the problem of unreliable electricity in several maternity centers in Nigeria where maternal mortality rates are among the highest in the world: 1100 maternal deaths for every 100,000 live births.
WE CARE is one of several exciting organizations being established to help people meet the need for clean reliable energy. Another is the Solar Electric Lighting Fund, also fighting against global poverty through the provision of solar power.
Locally controlled renewable energy sources such as solar, small scale hydro, and wind can provide a much needed solution to the problem of unreliable energy for rural health clinics. On site energy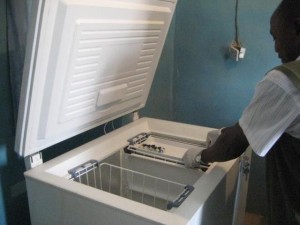 generation can address many issues including:
Vaccine refrigeration
Ice pack freezing
Lighting
Communication
Medical appliances
Sterilization
Water supply and purification
Safe, comfortable conditions for staff and patients
Long term cost savings
However, one of the major challenges facing the introduction of renewable energy technology remains its relatively high cost. Too often, advocates for renewable energy minimize the high initial cost of the technology and argue that ongoing costs are negligible. Unfortunately, although recurrent costs are indeed low, they exist. Batteries eventually need to be replaced and people need training for on-site maintenance and repair of the systems.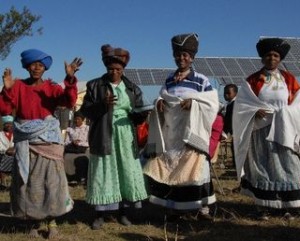 When there is no specific plan for meeting these costs, the technology may quickly become useless. Administration errors by the organization providing the technology will then be blamed on the technology itself, or worse, on the people for whom the project didn't work. Too often villagers and health workers are "kept in the dark" when renewable energy projects are planned, and then "left in the dark" when the projects fail.
When the priorities of both the health clinics and the broader community at large determine whether and when a renewable energy system is installed, village members are provided with valuable technical expertise and there is increased community responsibility for the long term maintenance of the systems.