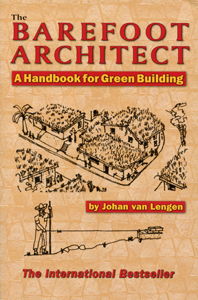 Hesperian networks with many individuals and organizations committed to providing accessible, easy-to-understand resources that empower communities to thrive and grow on their own terms.  Among these is the author of the newest text on our Health and Empowerment Bookshelf, The Barefoot Architect.
As the environmental movement began to take off in the 1970s, Dutch-born Johan van Lengen left his job as an architect in San Francisco and moved with his family to Brazil.  Crediting the innovative Whole Earth Catalogue as an early influence, van Lengen set out to work with poor communities to build safer and more environmentally sustainable housing.
With his wife Rose, he founded TIBÁ (Bio-Architecture and Intuitive Technology), an institute in Brazil's Mata Atlantica jungle that offers workshops on ecological building techniques. TIBA hosts students and community leaders to work on bioarchitecture projects and learn new methods, from creating grass roofs to building with adobe.  In doing so, they also hope to reframe peoples' ideas of their home's relationship to the surrounding environment, creating shelters that are natural and sustainable members of a community's ecosystem, whether urban or rural. 
Early in his work, van Lengen recognized that people in poor communities often have little choice but to seek shelter in buildings that are poorly constructed, environmentally detrimental, and hazardous to their health. Open windows and gaps in house construction provide entry to mosquitoes carrying malaria or dengue; found construction materials and furnishings might contain finishes or other chemicals harmful to both the family and the community; cracks in walls and floors can encourage dampness and mold, leading to asthma and allergies; and poor indoor sanitation facilities can lead to serious health problems.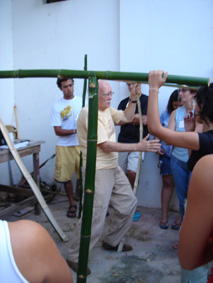 Van Lengen believed that a written guide to ecological building, with language and diagrams that could be easily followed, would help communities looking to construct safe and healthy shelter and empower them to take on these projects themselves. Like Hesperian's Where There Is No Doctor, The Barefoot Architect was originally written in Spanish while van Lengen was working in Mexico in 1982. Manual del arquitecto descalzo was a heavily illustrated guide to building simple, environmentally sustainable houses using both traditional and modern methods. For example, while encouraging people to use recycled modern materials like bricks and concrete blocks, van Lengen also notes that cactus juice is an excellent impermeable finish.  Diagrams are not only clear and easy to understand, but also include images of materials easily recognizable to communities looking to build with what they have on hand, including palm, straw, agave, bamboo, sand and clay. 
The Mexican government was so impressed, they bought 40,000 copies and placed one in every library in the country. The book went on to sell over 200,000 copies in Latin America. It has also been published in Portuguese, and is now available in English.
 
Containing a wealth of information about natural materials, design for energy conservation, and building for different climates, the author emphasizes using materials that communities may already have on hand. The book straddles the diverse array of climates in the Global South, from deserts to humid tropical areas, and offers constructive, accessible instruction on planning to build in locations both rural and urban, for structures intended to be permanent or for those that could move with a family to a new location. The Barefoot Architect also invites to the reader to consider their local environmental threats, offering insights on building in areas prone to floods, earthquakes and mudslides.  The book includes sections discussing small-scale energy production, cleaning and storing drinking water, and dealing with septic waste. Some of these topics, such as protecting community water, building toilets, indoor health hazards in the home, and waste disposal, are discussed in more depth Hesperian's own A Community Guide to Environmental Health.
One of the world's foremost authorities on environmentally friendly building design and construction, Johan continues to develop new ideas and reach out to new audiences. For more on Johan van Lengen and his projects, visit TIBÁ's website at: http://www.tibarose.com/.