By Jane Maxwell, Hesperian Editor
On page 210 of A Health Handbook for Women with Disabilities, there's a story told by Naomy Ruth Esiaba, a polio survivor and woman of great determination from Kisumu, Kenya. In her story, Naomy recalls how, despite strong beliefs in her community that women with disabilities could not (and should not) become pregnant, Naomy did just that. She very much wanted to be a mother, loved children, and was delighted to be pregnant. But when she went for a check-up, the doctor told her to have an abortion right away because her disability would damage the developing baby. Women with disabilities are often encouraged to have abortions, even in countries where abortions are illegal.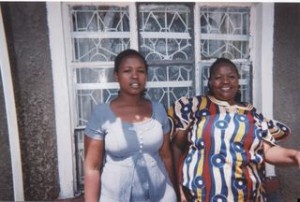 Though she was scared, Naomy decided to go through with the pregnancy. But she was afraid to go forany more medical check-ups and didn't do so until she was quite far along. Fortunately, when she did go for her check-up, she saw a helpful doctor who assured her she was going to carry the pregnancy to term, and advised her to give birth in a hospital. Naomy carried her baby the full 9 months, and delivered a healthy, non-disabled girl. During a recent trip to Kenya, I was lucky enough not only to visit my long-time friend Naomy, but to be there when "baby" Ann was home from college to celebrate her 21st birthday!
Naomy was a key reviewer of A Health Handbook for Women with Disabilities, and brought the same determined spirit to that endeavor. She gathered 7 friends—all women with disabilities—who camped at Naomy's house for several days, sleeping on mattresses on the floor while they did a thorough review of the early manuscript. During that meeting they decided to start an organization, Disability and Women Development Strategies (DWDS), with the mission of empowering women with disabilities by providing education and building collaborative networks.
When A Health Handbook for Women with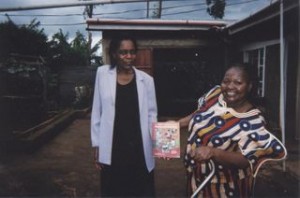 Disabilities was published in 2007, Hesperian received a grant to give copies of the book to disabled women's groups in Africa. We sent Naomy 30 copies (later, she obtained and distributed 28 copies more). When the books arrived, she and her 7 colleagues at DWDS brought 30 women with disabilities to Kisumu and held the first workshop of its kind in that region of Kenya, discussing information from the book and giving each woman a copy. Naomy told me that this gathering gave the women and girls who attended an opportunity to get to know each other and establish relationships. Out of that workshop, 10 more community-based organizations for women with disabilities formed.
Representatives from each of these organizations continue to gather once a month to discuss various disability-related issues. While in Kenya, I was fortunate enough to attend one of the monthly meetings where about 50 women with disabilities, many of them with Hesperian's book in hand, participated in discussions about disability and human rights. Naomy stressed to the group that many policies giving certain rights to people with disabilities are already in place in Kenya, such as physical access to public buildings, and free health care. However, few disabled people are aware of these policies, so they do not demand the services they are entitled to.
There are now 102 women with disabilities registered with DWDS, and there's no doubt that with Naomy Ruth Esiaba at the helm, they will be making their voices heard.