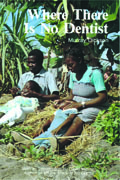 We are excited to announce the release of the new update of Where There Is No Dentist, a resource that community health workers, educators, and individuals from around the world have used to help people care for their teeth and gums since 1983! This new 2010 update includes expanded medicines information, an updated resources section with information on Atraumatic Restorative Treatment (ART), and the most current general information about HIV and care of the teeth and gums. In honor of the release of this updated edition, we'd like to share a story about how this book is used in the field – and how non-profits can help to support community dentistry.
For years, Lee Gallery, a longtime volunteer, has overseen Hesperian's Gratis (free book) program , combing through hundreds of letters from people who need our books but cannot afford them.
Recently, Lee received a letter from a dental assistant at Mzambazi Rural Hospital in Malawi, expressing his appreciation for the books he had received, including Where There Is No Doctor and Where There Is No Dentist.
"These health books have really helped me because now my work could go forward really properly,'' said the dental assistant, Stanley Hoyi Chidimba, in a hand-written, one-page letter. "Sir, for this reason, I am really thanking you very, very much indeed."
However, he realized that he could do only so much to help his patients: he had no filling material for Atraumatic Restorative Treatment (ART), a procedure in which dentists or dental workers remove tooth decay with hand tools, then fill the cavities with an adhesive material called glass ionomer. Since ART allows dental workers to fill cavities without drilling, it is especially useful in communities where expensive dental drills and the electricity needed to operate them are not available.
Mr. Chidimba even attached a copy of the certificate he had received for his training in the dental technique.
Mr. Chidimba eventually did receive help in the form of Lee's dentist, whom she mentioned the predicament to in passing. The dentist sent an assortment of used but fully functional dental tools and supplies to Mr. Chidimba in Malawi, many of them unused product samples given away by pharmaceutical and dental corporations. A reviewer helping with the new 2010 update of Where There Is No Dentist later remarked to us that much of the equipment in US dental offices and clinics is simply thrown away after its pre-determined "life" due to governmental regulation, even though it can be reused if sharpened and refitted.
Many of the supplies needed for ART and other dental procedures are common tools such as tweezers, mirrors, explorers, and excavators, but they are often prohibitively expensive for community health workers. Where There Is No Dentist details how to build a variety of your own dental instruments, and we hope that more organizations that donate medicine and equipment to support health projects around the world will add dental tools and ART materials to the list of what they provide. As many health workers and advocates for community-based primary care have long understood, caring for the teeth and gums is part of caring for the person as a whole.
Hesperian is a non-profit publisher of health materials – we are not a grant-making organization, and we do not distribute dental supplies. However, we encourage you to explore the resources below, taken from Where There Is No Dentist, which may provide free or reduced-cost dental equipment:
FDI-The World Dental Federation 
Durbin PLC may sell instruments at lower prices—contact them!