On December 20, the KPFA program Africa Today featured Hesperian Fellow Julie Cliff talking about her work in Mozambique. Here's a recording of the program (Julie's interview starts at 29:30):
Africa Today – December 20, 2010 at 7:00pm
Click to listen (or download)
  Julie is a long-time Hesperian partner. This year she completed a Portugese edition of Where There Is No Doctor for Mozambique, Onde Não Há Médico, in order to provide the most up-to-date information on health for use by communities and clinics throughout the country. Given the high incidence of HIV in Mozambique, the edition incorporates information about HIV/AIDS in many chapters.  She spent a month this fall working with Hesperian writers and editors in Berkeley on early drafts of a new edition of Doctor.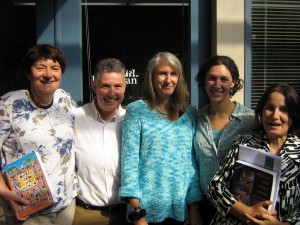 Julie is an Australian physician who moved to Mozambique as part of the international solidarity movement when the country gained independence from Portugal in 1975. She has lived there ever since. On the radio she discusses her work on several public health issues including a rare form of paralysis that affects women of reproductive age and children as a result of having to eat under-processed green cassava during drought and famine. She also talks about the development of a malaria control policy in southern Africa that distributes bednets instead of spraying for mosquitoes with pesticides.
Photo: Julie Cliff (left) smiles with Hesperian staff and Aruna Uprety, another Hesperian Fellow