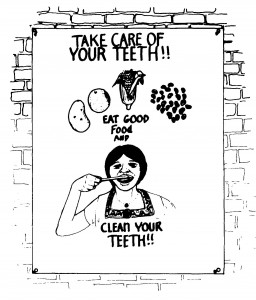 You are what you eat — this is reflected in all parts of your body including your teeth! The industrial food system is changing the way that we eat. In rich and poor nations alike, people are eating more processed, sugary foods that harm our health. Taking back our food system and making access to fresh, nourishing and affordable food a human right are long-term preventive strategies; in the meantime, how can we take care of our oral health?
Where There Is No Dentist, Hesperian's newly updated companion book to Where There Is No Doctor, gives clear, simple instructions to help individuals take care of their gums and teeth before they become severe problems.  This invaluable resource teaches health workers, educators and individuals to prevent, recognize and treat common dental problems. Topics covered include dental exams, diagnosis of common dental problems, making and using dental equipment, using local anesthetics, placing fillings, removing teeth, and detailed material on HIV/AIDS and oral health.
This new edition, updated in 2011, features a new section on "Meth Mouth" – problems of the teeth and gums that result from the use of the addictive drug methamphetamine, used by increasing numbers of people around the world – and an updated resource section.
Act for health.  Purchase your copy of the new 2011 edition of Where There is No Dentist today!  Order five or more copies and receive a 20% discount.