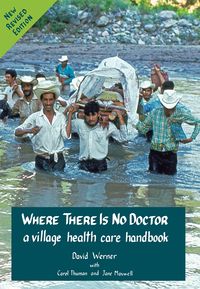 Our bodies and environments are constantly changing – new medicines are created and viruses evolve.  We continually update Hesperian health guides to ensure that those who rely on our materials to promote healthy individuals and communities have access to high quality, up-to-date medical information.
The 2011 reprint of Where There is No Doctor includes updated information on antibiotic use and dosage for several infections such as UTIs, whooping cough, and appendicitis; on malaria treatment in accordance with the latest WHO guidelines; on how signs of heart attacks in women differ from men; and much more!
Until the end of November, we are offering a 30% discount on all bulk orders (5 or more copies) of Where There is No Doctor.  Click here [link] to purchase Hesperian's signature health guide!
You'll notice that the 2011 reprint of Where There is No Doctor features Hesperian's new logo and new name, Hesperian Health Guides!  The name more accurately reflects the work we've done for more than 30 years and will continue to do as we recommit ourselves to producing Knowledge for Action. Action for Health.