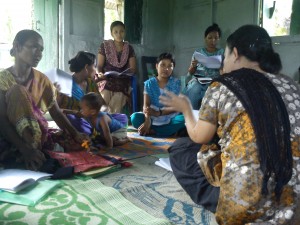 The bags came up the mountain trail on the back of a horse as usual.  Inside there was a parcel sent from America by our friend Janet Meek.  Along with a few comforts from home was a copy of Where There Is No Doctor.  Inside the cover was scribbled a small note which said, "Thought this might come in handy, though I hope you never have to use it."  There was no way she could have known what would become the irony of this statement or that she had cast a spark into the tinderbox of our community.
My wife Amanda and I (Ryan Phillips) were trekking through the Annapurna range on our honeymoon when we first envisioned our life's work together.  It was to be a trail construction project linking remote villages to the bazaars which they feed off of.  The idea was simple, it was infrastructure development in its most elemental form.   Villages need trails to access education, health care and the materials they need to survive.  In 2003 we began our project in Daragaon (West Bengal, India), and in 2004 we dropped all of our plans and chose to live in this road-less, un-electrified village in the middle of the Indian Himalayas.  The community responded en force to our initiative and began voluntarily paving its paths every Saturday.  We broke rock, carried stone, dug trenches, smashed toes and sweated right along with them.  The weekdays were free and the need for quality education was staggering.  So quite unexpectedly, we found ourselves organizing the community to start a primary school.
Our copy of Where There Is No Doctor arrived just in the nick of time, for it was through teaching the village's children that we became aware of the health crisis in our community.  Within the first month a child had died of pneumonia, then one of diarrhea and yet another of febrile convulsions.  Then the measles epidemic struck.  Our school was nearly empty so we called an extended holiday, read the section on measles and got to work.  For days we ran from one student's house to another giving medicine and teaching the parents how to properly care for the high fevers.  Despite our efforts, six children from the community didn't make it.  It was an eye opener and with those open eyes we started to see the immensity of the situation.  Our neighbours were dying of easily preventable and treatable diseases.  Every home in the village had a mother or child which had not survived childbirth.  But already juggling a trail construction project and school, what could we do?  Nonetheless in the months following, seeing that we had some simple medicine and basic knowledge, the ill began streaming to our little cabin.
For the next few years we used our copy of Where There Is No Doctor to the full.  At a certain point we realized that health promotion was our new, again unexpected, life's work.  It was time to go for in depth training.  I attended a 7 month program to learn Primary Health Care as Amanda studied to be a Certified Professional Midwife.    
Since then, the village of Daragaon has constructed a beautiful health centre through its own volunteered labour and resources.  Local women have been trained to run this facility and meet the community's health needs.  In 2008/9, Amanda and I co-founded ECTA International and moved on to extend our work beyond one remote village.  Now based in the village of Kaffer, in the Darjeeling District of W. Bengal, we run a Mother Child Health Centre,  Ambulance Service (3 vehicles covering a vast previously unlinked region) and invest heavily in training Community Level Health Workers. 
One of our biggest challenges has been the distribution of health materials.  Working with the Nepalese in India means that there are few books available in their tongue.  Whenever we would travel to Kathmandu, we used to scour the city trying to find every available copy of Hesperian's materials in Nepali.   There was never enough and it was difficult to carry the load back home.  Even though the local publisher has a wing in W. Bengal, we've tried for years to obtain Where There Is No Doctor locally without success.  When I saw the Hesperian's Digital Commons and saw that you were developing mobile applications… my wheels started turning.  Around this same time period I heard about a company called Datawind that was releasing an Android based tablet for Indian students.  It would only cost $USD 70.  Calculating the cost of purchasing the hard copies (let alone the travel to Kathmandu) I realized it would be cheaper to buy all of our Health Workers a tablet and load them with existing material.  These days I carry all of Hesperian's materials in my pocket wherever I go.  My first copy was carried in on a horse but times are changing.  Some people think that villagers won't be able to overcome the technological gap but I disagree.  Even uneducated villagers in some of the most remote corners have mobile phones these days.  When I see a simple farmer listening to Hindi Pop MP3's (which he has downloaded off the internet) on his mobile while cutting grass for his goats… I know that Hesperian's move into the digital will result in a massive dissemination of these lifesaving messages.  I'm putting in my order for 25 tablets later this week.
On Monday, I cut the ribbon for Git Kolbong's new Community Health Centre.  We sent a village man named Biren for 6 months of nurse training as the villagers collaborated on the Centre.  They decorated me with a Nepali topi (cap), shawl, scarf and kukhuri (machete) as thanks.  Suddenly embarrassed, I realized I'd forgotten to bring something to honour Biren.  The only thing in my bag was my ragged copy of Where There Is No Doctor in Nepali… my last copy.  I told the crowd the same story I've shared with you here.  I told them that health is not something to be monopolized by the educated and endowed.   We all have a right to health.  Health is knowledge.  That knowledge is a seed which slowly grows into maturity when planted in the heart of our communities.  But we must tend it, water it and even prune it at times.  Janet had no idea what that book would do for us, our village and now our region.  The spark she sent lit our torch.  We've been using that torch to guide people on the road to health.  As I handed my ragged copy of Where There Is No Doctor to Biren as a gift, I realized that now our job is to pass the torch on to all who are working to promote the right to health. 
Ryan and Amanda Phillips