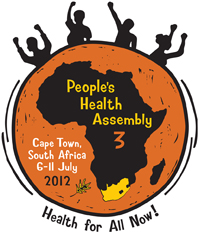 From July 6-11, Hesperian joined hundreds of health activists from over 90 countries at the third People's Health Assembly in Cape Town.  The People's Health Movement was launched in Bangladesh in 2000 with a renewed call for 'Health for All' in response to the insufficient international commitment to address the conditions which cause poor health for millions of people around the world.  Three Hesperian representatives participated in the six-day gathering in South Africa to continue building this inspiring global grassroots movement for health and social justice.
At the culturally diverse and inspiring opening plenary, the South African Minister of Health greeted PHM activists, and the spirit of community health workers was celebrated in song and dance.  Speakers addressed the challenges confronting people's health and our capacity to overcome them. The meeting place of the Assembly, The University of the Western Cape, had been an incubator of struggle in the anti-apartheid movement and once again its halls contained health workers, activists, and administrators from South Africa and around the globe, all working in their own ways to create a more just world. 
Watch a video of the opening ceremony.
Over the course of the Assembly, participants shared analyses of the global forces that affect health and illness around the world, and developed concrete plans to collaborate and support one another's efforts for change.  During a workshop on "Challenging Extractive Industries," people from 15 countries and every continent, many of whom were partners in developing Hesperian's  A Community Guide to Environmental Health, told stories of how mining, oil, and gas industries are affecting the health and lives of people in their communities.  One after another, as experiences were shared, we were astonished to find how similar the stories were. Together we decided to form a new People's Heath Movement working group to challenge extractive industries and to organize together on these issues.  To join this working group, please contact [email protected].
For more information about the Assembly, including videos, newsletters, and reports, visit the PHA3 website. 
While attending the Third People's Health Assembly, Hesperian staff helped to lead and coordinate workshops and sub-plenaries on the following topics:
Migration, Displacement, and Xenophobia
Work and the Right to Health
Fair and Healthy Work
Challenging Extractive Industries: A Call to Action on People's Health and Environmental Justice
Electronic and Mobile Tools for Community Health Workers
Spring to Occupy: Health for All in the Global Revolution
---