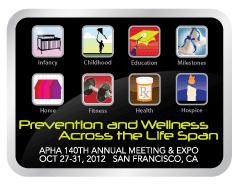 Hesperian will be all over the 140th Annual Meeting of the American Public Health Association this year in San Francisco! Events kick off on Friday, October 26th and continue through Wednesday the 31st. Hesperian staff will be co-sponsoring a pre-conference panel, presenting on a variety of topics, hosting two receptions, and selling our books and demonstrating new digital tools at our booth # 1600 in the Exhibit Hall.
Schedule of events:
Friday, October 26
Panel: The Struggle for Sustainable Electronics and Occupational Safety and Health in Asia
6:30-9:30pm, Li Ka Shing Center, NE Corner of Oxford St. & University Ave., UC Berkeley
Monday, October 29
Panel: Reports from the Third People's Health Assembly
2:30-4:00pm MCC South: Esplanade Blrm 300, Session # 3374.0
Reception to honor Yuying Chen, OSH International Award winner (refreshments provided)
 4:00pm, Moscone West Exhibition Hall, Booth #1600
Tuesday, October 30
Panel: Maternal and Child Health 2
Where There Is No Midwife: Developing a mobile app for Safe Pregnancy and Birth
12:30-2pm Marriot Marquis: Pacific C, Session # 4227.0
Reception: People's Health Movement (refreshments provided)
4:00pm, Moscone West Exhibition Hall, Booth #1600
Panel: International Experiences in Health and Safety
From Silicon Valley to Samsung: Challenges for workers in electronics manufacturing
4:30-6pm MCC South: Esplanade Blrm 304, Session #4413.0
Wednesday, October 31
Panel: Apps for Health Education and Wellness Promotion
Empowering Community Health Workers through mobile applications8:30-10am MCC West: 2006, Session # 5091.0
Please contact us if you plan to attend and have any questions at [email protected]. We look forward to seeing you soon!