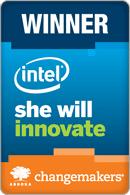 Hesperian Health Guides has been awarded $10,000 by Intel Corporation and Ashoka Changemakers as a winner of the "She Will Innovate" competition. Hesperian's app for mobile phones, Safe Pregnancy and Birth, was chosen out of 292 submissions from 54 countries as one of three entries which most represents "the world's most innovative solutions that equip girls and women with new digital technologies — enabling them to live healthier, smarter, and more meaningful lives."
Community health workers, midwives, trainers, and educators have depended on Hesperian Health Guides for decades to provide reliable, accurate and easy-to-read health books such as Where There Is No Doctor, which has been called "…arguably the most widely use public-health manual in the world" according to the World Health Association.
The Safe Pregnancy and Birth mobile app, currently available for free download on Android and iPhone, has been downloaded over 24,000 times in 155 countries.  It incorporates health content that has been field-tested by community groups in over 50 countries, and aims to support thousands of women, midwives, and health workers to ensure safer pregnancies and births by providing health information that is medically accurate, accessibly written, and empowering.
The award will be used to continue development and expansion of the mobile app. Hesperian Health Guides hopes to release the app in additional languages over the coming year, while also increasing access to the app by retooling it for lower-end mobile phones and tablets.
"Wonderful- fantastic and helpful! Hesperian should make more of these. I work with rural communities in Guatemala and feel much more prepared with this simple guide!"- Kanato Bo, Safe Pregnancy and Birth mobile app user.
For more information, or to schedule an interview, please contact Alexandra Thebert at [email protected] or by calling 510/845-1447.