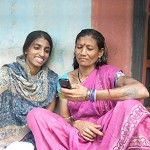 Hesperian's mobile app, Safe Pregnancy and Birth was recently awarded $10,000 by the Ashoka Changemakers/Intel "She Will Innovate" competition thanks to the incredible outpouring of support we received from around the world. We are currently hard at work translating the app into new languages (look for the Spanish app in early spring!) and exploring possibilities for lower-end phones.
This free app has now been downloaded 50,000 times. 50,000! Thanks to everyone who has downloaded the app- now we need to hear from you!
Send your story and photos about how and where you are using the Safe Pregnancy and Birth app, to [email protected]. Two winners will receive the FREE Hesperian book and CD set of their choice!
We have put together a short video featuring Divya Ramachandran, a beloved Hesperian volunteer who dedicated countless hours to working on the app development process. Watch to learn more about how the app was made. Watch the video and let us know how you are using the Safe Pregnancy and Birth app today!