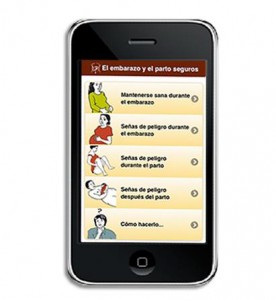 Hesperian Health Guides announces that its award-winning mobile app, "Safe Pregnancy and Birth", is now available in Spanish. Available as a free download for iPhone and Android , "El embarazo y el parto seguros" contains lifesaving information presented in clear, accessible language and with informative illustrations. The app is ideal for working with community health workers and midwives with varied literacy levels in the US and abroad.
The English app has been downloaded over 60,000 times and received the Ashoka Changemakers and Intel Corporate "She Will Innovate" award, which recognized the app as one of "the world's most innovative solutions that equip girls and women with new digital technologies — enabling them to live healthier, smarter, and more meaningful lives." The $10,000 award allowed Hesperian to translate the app into Spanish along with the generous help of many partners and volunteers. Currently, Hesperian is working to translate the app into additional languages and onto lower-end mobile phones, another essential step toward increasing accessibility.
Once downloaded, the app's lifesaving information can be accessed even in remote areas without an internet connection.  "El embarazo y el parto seguros" contains clear information and illustrations about:
* How to stay healthy during pregnancy
* How to recognize the danger signs during pregnancy, delivery, and postpartum
* What to do when a danger sign arises
* When to refer a woman to emergency care
 "Wonderful – Fantastic and helpful! Hesperian should make more of these. I work in rural communities in Guatemala and feel much more prepared with this simple guide!" –Kanato Bo, app user, Guatemala.
Mobile health, or mHealth, is a quickly growing field and has been a topic of increased discussion in the field of global health. Studies have found that successful mHealth applications are simple, making diagnosis, treatment, data collection easier for community health practitioners. Hesperian's mobile app was built from the type of content that Hesperian is known for: clear, accessible, and easy to understand. Hesperian's books are developed originally for use in communities where there is no doctor; the mobile app is a curated selection of the heavily field-tested information contained in these titles.
Sarah Shannon, Hesperian's Executive Director explains, "What makes this app unique and functional is that we are putting health content in the hands of those who are already carrying out health trainings and practice in their communities- this tool supplements existing knowledge and provides visual cues and reminders for everything from nutrition during pregnancy to emergencies during birth".
The World Health Organization states that 1,000 women die each day from complications related to childbirth. With the app now available in Spanish, Hesperian hopes to reach a wider audience of midwives and community health workers. Hesperian is in the process of developing key partnerships in Latin America to aid with distribution of the application.
Links to the app can be found at: https://hesperian.org/books-and-resources/safe-pregnancy-and-birth-mobile-app/ or by searching for "Hesperian Health Guides" in the Google Play store (for Android) and the iTunes store (for iPhones and other Apple devices).
 Contact [email protected], 510-845-1447 with questions or to request an interview.