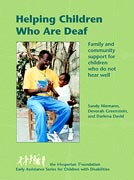 Berkeley-based Hesperian Health Guides has received a grant from The California Communications Access Foundation to provide free online multi-lingual early childhood development resources for California families of children who are deaf or hard of hearing. The CCAF is a nonprofit that specializes in improving access to telecommunications services for people with disabilities and other traditionally underserved populations. The grant will support California families, educators, and service providers by placing Helping Children Who are Deaf in a free, mobile-accessible online format in English, Spanish, Chinese, and Amharic. This resource will support and enhance the long-term objectives of California State programs such as Early Start as well as the nonprofit organizations that support children who are deaf or hard of hearing and their families.
Helping Children Who Are Deaf, one of three titles in Hesperian's Early Assistance Series,  was developed and field tested with dozens of major national and international organizations devoted to supporting children who are deaf or hard of hearing. The information in the book represents widely used, evidence-based early childhood development interventions and practices, presented in a simple, easy-to-understand manner.  The heavily-illustrated information and activities help parents and caregivers work inside and outside of the home with children who are deaf or hard of hearing to improve communication so children grow to participate fully in their families and communities. Dr. Amy Wilson of Gallaudet University comments: "This book…is an excellent resource for teaching families, communities, and healthworkers how to make language accessible to deaf children so that they can learn about, undertsand, and interact with the world around them."
The project begins in early May 2013 when Hesperian begins transforming the print edition of Helping Children Who are Deaf into its ground-breaking online "HealthWiki" format in all four languages. The HealthWiki is a free online site where Hesperian's health resources are accessible in a simple, easy-to-use design that functions well even on slow Internet connections.  A pilot program with a small group of families and educators from the Center for Early Intervention on Deafness in Berkeley will use online tracking and evaluation tecniques to determine what adjustments might be necessary to make the resource more relevant or usable before full-scale public rollout. After the grant's completion, Hesperian plans to release this resource in additional langugages, which will further benefit California families and organizations.
Contact: Robin Young                                                                    
Tel: 510/845-1447                                                                 
[email protected]
www.hesperian.org