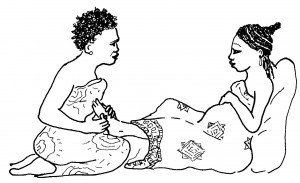 Health workers and educators know that pictures are often critical tools for reaching across differences of languages and literacy to improve health knowledge and capacity. Often using photocopiers, scissors, and tape, health workers have long used Hesperian images as source materials for creating health training materials, health curriculum, presentations, flyers, posters, flipcharts, and many other tools. Since the launch of Hesperian Images, our online database of over 12,000 illustrations taken from Hesperian's books, it's become much easier to access health-related images for use in the creation of health materials. You'll enjoy browsing through these engaging images! Here are a few simple guidelines to help you navigate Hesperian Images and find the perfect pictures for your next project.   
  1.  Open Hesperian Images where you can quickly and easily sign-up (or log in, if you already have an account).
2.  Search for images in the upper righthand corner of your screen. Quick search tips:
If you know the precise image that you want, enter the title of the book and the page number (example: A Book for Midwives 94).
If you want to browse the entire library by topic, simply type in a keyword such as "breastfeeding."
Use the toolbar on the right to narrow your results. You can sort by number of people in the image, book title, gender, emotion, ethnicity, and many other distinguishing features.
3. Once you've found the image that you want, click "Add to basket."
4. Add as many images to your basket as you need, then click on the basket icon to check out. Choose your license and agree to Hesperian's Terms and Conditions. The price of each image is determined by how you plan to use the image — this is designed to make images most affordable to grassroots community health workers.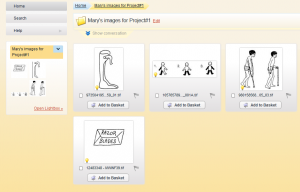 The lightbox is a helpful tool that allows you collect and organize your images in separate folders. Your lightbox is in the left-hand corner of your screen at all times, and you can add images to it by simply pressing the yellow "+" sign under an image. Once you open the lightbox you can change its name and organize or remove images. If you are working with a partner on your health project you can even share the images you've collected in your Lightbox with them.
The pictures from Hesperian Images, coupled with text copied and pasted from the Hesperian HealthWiki and then edited to best address your own situation, can help you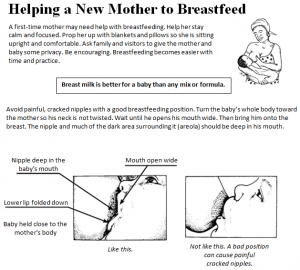 create a customized flier or handout. Here's one from a nonprofit organization in California:
Are you looking for more inspiration?
A midwife working in South Sudan recognized that many of the images could be used on laminated cards with pictures to help communicate with traditional birth attendants.
A woman that works with a faith-based organization in Honduras that provides medical, dental, and optical care to the country's capital, made handouts for the women that they could use to teach others in the community, especially for women who can't read.
We are always happy to answer any questions you might have, or assist you with any technical difficulties. Email [email protected] or call (510) 845-4507 with your questions or concerns. And let us know how we can improve your experience with Hesperian Images. Thanks for supporting Hesperian!