For years, community health workers have depended upon the first aid information in Where There Is No Doctor to respond to accidents and injuries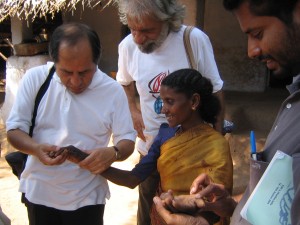 that occur at work, in the home and community, from natural disasters, and now from climate change. A study done by Johns Hopkins University found that Hesperian's first aid information is the most accessed of Hesperian's material in the wake of emergencies and disasters. Now, Hesperian Health Guides is proud to announce a completely revised and updated First Aid chapter containing brand new, lifesaving information! Now available as a free PDF download.
 The International Red Cross states, " [First Aid] is more than a skill — it's an act of humanity. Given without discrimination, it helps empower communities to take greater care of their own survival and well-being. It's a responsibility of global citizenship and an essential element for safe and resilient communities." [1] This new chapter on first provides first responders with updated guidelines that are relevant to th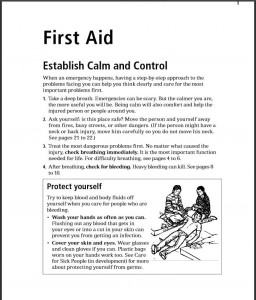 e issues that health workers currently face. The information in the chapter helps the reader to prioritize the action steps to take after an accident or injury, and provides the lifesaving information needed to deal with emergencies.
The First Aid chapter is the latest release of the advance chapters from the NEW Where There Is No Doctor, and provides updated protocols, improved organization, and necessary new information, while retaining the same simplicity, utility, and warm tone of the classic Where There Is No Doctor.
The information in this new chapter expands Where There is No Doctor by explaining how to provide First Aid for common chemical poisonings, wounds and burns (including preventing infection), treating wounds from street violence and police weapons, as well as a section on how first responders (many of whom may have little to no formal traini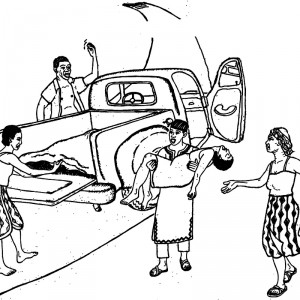 ng) can best keep themselves safe and healthy during an emergency. There is also new information on spinal injuries, heart attack (CPR), rape, mental health emergencies, diabetic emergencies, and allergic reactions.
Hesperian's first aid is an essential life-saving tool for communities around the world. This highly illustrated and easy-to-read chapter provides individuals with the information necessary to empower communities to take control of their health. Take a look at the new chapter and also the New Where There Is No Doctor on our Books and Resources page.
---
[1] http://www.redcross.int/EN/mag/magazine2010_2/10-13.html