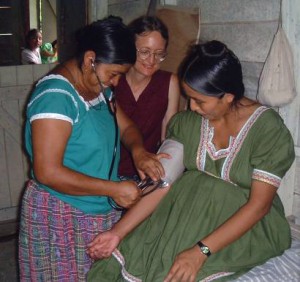 At Hesperian, we often write about our Gratis Books Program that sends over 1,000 free books each year to community health workers and educators around the world who can't afford to purchase them. You may also be familiar with the global reach of Hesperian's resources; over the past 40 years, our books have been translated into 80 languages by community partners and can be found in at least 221 countries and territories around the world.  But beyond the numbers, how do we know the true impact of Hesperian's materials? How do we know that Hesperian resources are contributing to better health?
We begin with stories from you, our friends and partners around the world. Gratis Book Program recipients frequently send us their stories, telling us how Hesperian books are being used to build good health and engage in health education in their communities. We also receive stories from book customers, people who use our resources through our HealthWiki, by accessing our mobile app, or are users of Hesperian Images. We take these stories, and with the help of volunteers, insert them into a database, tag, organize, and analyze them. This process allows Hesperian staff to better understand the impact of our books and digital content in communities around the world, and helps us to improve our materials to be more useful and accessible to those who use them. We currently have over 2,000 quotes and stories in our database that detail how people are actively using Hesperian resources to help themselves, their families, and their communities.
These stories are often uplifting, but also serve as a tool that demonstrates the impact Hesperian books have in the communities where they are used. People who have Hesperian books will often share them with friends, coworkers, family members, and others.  A study conducted by John Hopkins University study found that 84% of people who have used Where There Is No Doctor have shared it with at least one other person, and that books received through Hesperian's Gratis Books Program reach an average of 40 people. This means that each individual Hesperian book creates a multiplier effect, serving as an important resource for individuals and groups as they struggle to realize their right to health.
One example comes to us from a community health worker in Kenya:
"Our village loved and appreciated the parcel and the contents you sent us. We thank you for thinking of us. The books are doing marvelous things for the people, especially the youth. In the evenings when everyone has finished working, we gather under a tree and I read and explain some of the content to them, especially Where Women Have No Doctor. Topics like family planning, eating for good health, understanding our bodies, general health and AIDS have been beneficial for me and the villagers as a whole. The other book, Where There Is No Doctor, is really saving lives and improving the standard of living in the village."
Learn more about the stories we receive and the systems we use to measure our impact through stories and quotes by watching our latest Hesperian Spotlight video featuring former Impact Volunteer, Libby Engles.
Share your story! We want to hear about your experience using Where There Is No Doctor and other Hesperian resources. Send written stories, photos, and videos to [email protected]. Your story helps us to improve our books and resources. Thanks for supporting Hesperian!