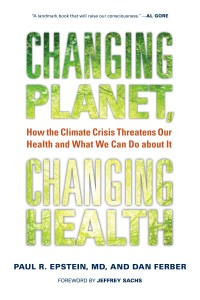 "Climate change isn't just inconvenient– it kills." ~Laurie Garrett, Pulitzer Prize-winning writer and author of The Coming Plague.
In the midst of devastating typhoons, tornadoes, and "superstorms," climate change is increasingly at the forefront of our minds and the daily news. Paul Epstein and Dan Ferber dig deeper into the story to explore how climate change is altering health and disease patterns. Brilliantly connecting personal stories with cutting-edge scientific and medical information, this book takes us around the world—to Mozambique, Honduras, the United States and beyond—on an eye-opening investigation of how changing climate is affecting malaria, Lyme disease, cholera, asthma, and other health threats.  It also evaluates topics such as Cap-and-trade, Climategate, and the relationship between global warming and capitalism. Most important, Changing Planet, Changing Health proposes an innovative set of solutions for shaping a healthy global economic order now.
Changing Planet, Changing Health: How the Climate Crisis Threatens Our Health and What We Can Do about It, by Paul R. Epstein, MD, and Dan Ferber, is the latest addition to Hesperian's Health and Empowerment bookshelf. These are books from other publishers we find to be particularly useful, interesting, and related to the work that we do here at Hesperian. Purchasing these titles is another way you can help us keep our books available, and affordable — and keep yourself informed!
Interested in environmental health issues? Check out A Community Guide to Environmental Health, available in English and Spanish, and as a bilingual CD. Thanks for your support!