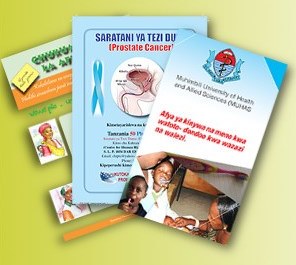 The Swahili health materials contest we announced in August, cosponsored by Hesperian, our Tanzanian partner COBIHESA, and K4Health, generated an impressive response. We are excited to announce that 22 new health materials are now freely available for download on our Swahili Language Hub! These excellent new resources cover topics from cervical cancer to training midwives, and from non-communicable to sexually transmitted diseases. People sent creative entries in every imaginable form: videos, fliers, brochures, posters, comic books, and more!
We would like to take this opportunity to thank every individual and organization that submitted health materials. Because you are willing to share your work, you are helping others to prevent, diagnose, and treat health problems in Swahili-speaking communities without reinventing the wheel and having to invest precious time and resources into creating new materials on these topics.
Contest winners were selected by an evaluation team assembled by COBIHESA. Join us in congratulating the winners and exploring these new materials here.
1. Dr. Emmanuel J. Kandusi: Prostate cancer (flier)
2. Helen Mtui, Muhimbili University of Health and Allied Sciences (MUHAS): Dengue Fever (flier)
3. Ecumenical Pharmaceutical Network: Coping with Drug Resistance (a series of 3 comic books)
Congratulations and thanks to all who participated! Together, we can build health for all.
Help us to increase the number of health materials available in every language on our Resources by Language page by contributing health materials you have created. We are particularly looking for short fliers that incorporate Hesperian Images. Donations are also greatly appreciated!