"No other resource today provides such concrete tools to engage communities and empower women of all ages to build lasting change from the ground up. A triumph!" —Cecile Richards, President, Planned Parenthood Federation of America
Women's health is more than medicine; the social barriers to good health for women and girls are difficult to discuss and resolve. Hesperian's new title, Health Actions for Women: Practical Strategies to Mobilize for Change provides a wealth of accessible, engagingly illustrated activities, strategies, and stories that address the social obstacles and practices that prevent women and girls from enjoying healthy lives. Read the full press release.
Field-tested in 23 countries, this new companion to Where Women Have No Doctor helps communities to challenge violence against women, improve access to family planning, foster safe motherhood, counteract the harmful effects of restrictive gender roles, promote strategies for achieving better sexual health, and ensure that health services meet the needs of women and girls.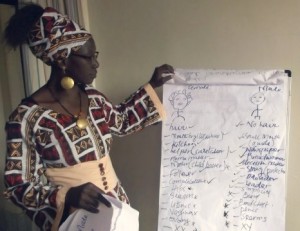 Anyone who has ever worked, organized, taught, or even thought about women's health and equality will find countless accessible, actionable tools in Health Actions for Women. Whether you live and work in the US or overseas, this resource is a "must have" for your outreach and training work.
Purchase this title or book sets that include this title in Hesperian's online bookstore.
For press inquiries or to request a sample copy, please contact Robin Young, Marketing and Outreach Manager: [email protected]; 510-845-1447 ext. 214
More praise for Health Actions for Women:
"Using this book, we can create enduring change by starting from the experiences of women, by respecting our knowledge, cultures, and traditions, and by bringing our stories to the fore as we envision and work toward a brighter, more just future." —Rigoberta Menchú Tum, Nobel Prize Winner, 1992
"A marvelous 'blueprint for action' that brings together women and their allies to improve health for a whole community. Along with Where Women Have No Doctor, this book kick-starts the imagination to take collective action, especially where women's rights and needs are most neglected." —Judy Norsigian, Executive Director, Our Bodies, Ourselves
 "Tools like Health Actions for Women bolster and propel communities' efforts to provide high-quality and timely care for patients whose voices have for too long gone unheard. Such efforts are critical to the advancement of the movement for global health equity and the eradication of so much needless suffering among the world's poor." —Paul Farmer, Co-Founder, Partners in Health
"Work problems, financial problems, family problems, health problems—these problems are all interrelated. Health Actions for Women helps poor women get together, identify their biggest challenges, and organize to improve their lives and health in lasting, meaningful ways. Every woman should read the book and take action." —Ela Bhatt, founder, Self-Employed Women's Association of India (SEWA);  Member of the Elders, recipient of the Ramon Magsaysay Award, The Right Livelihood Award, and the Padma Bhushan.