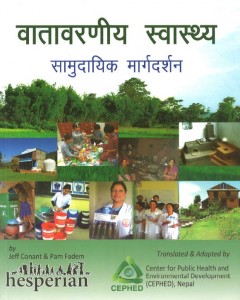 We extend our heartfelt sorrow and solidarity to the people of Nepal as they begin to bury their dead after Saturday's earthquake left thousands dead, hundreds of thousands homeless,  and many more completely cut off from contact by landslides. As civil society and governments struggle to provide search and rescue aid, food, medicine, and shelter, here are a few ways you can lend your support.
Share health information. Nepalese editions of 6 Hesperian books are freely available online. Download chapters from the Nepali Community Guide to Environmental Health on sanitation, hygiene, water purification, and more. Check out the other titles on the Nepali language hub, tell your networks about these resources, and make copies available to your family and friends in Nepal. (We are relieved to report that Hesperian's longtime advisor and translation partner in Nepal, Dr. Aruna Uprety, has e-mailed to let us know that she and others from RHEST have survived the earthquake.)
Donate to the IDEX Nepal Recovery and Resilience Fund, the American Himalayan Foundation, the International Commission for Dalit Rights (ICDR), Global Giving, the American Jewish World Service, and others involved in relief efforts. The New York Times is maintaining a list of organizations contributing to the effort.
Inform healthcare professionals aiding in the earthquake response (including libraries and organizations) that the US National Library of Medicine's Emergency Access Initiative is granting free access to full text articles from major biomedical titles to healthcare professionals, librarians, and the public affected by disasters. Volunteers in Nepal can also use this Nepali Text To Speech website to help communicate with local community members.
Tech-savvy volunteers can contact MicroMappers, an initiative preparing to analyze tweets and pictures for evidence of damage and needs in affected areas of Nepal and India.