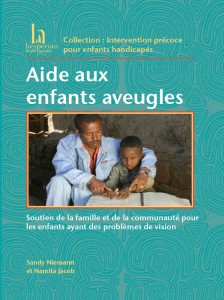 After much hard work and collaboration with our translation partners, we're proud to announce that the French editions of Helping Children Who are Deaf and Helping Children Who are Blind are now available for purchase.
 Both are available in the Titles in Other Languages section of our online bookstore. Other books in French include Childbirth Picture Book and Water for Life, a chapter from A Community Guide to Environmental Health that explains how to treat water to make it safe for drinking, and how to organize water projects.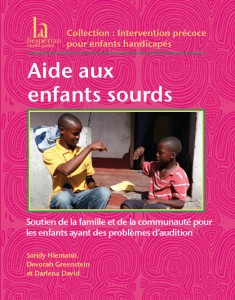 Lenie Hoegen Dijkhof, a longtime Hesperian friend and collaborator in Burkina Faso, carried out the translation work for both books. Translating text into common, everyday language — the hallmark of our books — is difficult enough. But Lenie and her team had the extra challenge of checking and translating (into new pictures, when needed) all the hand signs used in Helping Children Who Are Deaf. Lenie and her team did a great job, and we are filled with admiration for their work.
These new books are part of Hesperian's Early Assistance Series, which contains essential information and simple activities to help parents caregivers, teachers, health workers, rehabilitation workers, and others help children with hearing and vision problems develop all their capabilities by:
Assessing how much a child can see and hear
Preventing blindness and deafness
Supporting parents
Teaching everyday skills
Preventing sexual abuse
With the support and encouragement of their families, caretakers, teachers, and neighbors, children with visual and hearing impairments grow up to be important and active members of their communities. Purchase your copies of these titles in French today!