Obstetric fistula can ruin a woman's life.
A fistula happens during birth when a baby's head presses against the pelvis for so long that a hole is torn between the birth canal and urethra or rectum, resulting in a constant and uncontrollable leaking of urine or feces.
Women suffering from fistula become outcasts: every year thousands of women are abandoned, divorced, ostracized, and stigmatized as cursed.
But women with fistula aren't cursed. They are just too young, too far from hospitals, or too small or malnourished to have a healthy labor.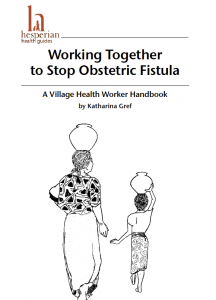 To address this crisis, we've just launched a free ebook, Working Together to Stop Obstetric Fistula. This resource will help women and health promoters understand the risks for developing fistula, prevent obstetric emergencies, and find treatment.
This ebook, begun as a research project by Katharina Gref at Dalhousie University, can be developed into a more comprehensive resource with your help.
Additional topics to research and include will take into account the role of war and sexual violence against women in causing fistula, more information about the surgery to repair fistula, strategies for healing, and country-specific resources for finding help with fistula.
We plan to work with our global partners in Nigeria, Nepal, Pakistan, and elsewhere to field test and improve  the content, ensuring that our health information will reach the women who need it most.
Your support will allow us expand this critical project to help women heal and take back their lives.