In 1993, Dr. America Bracho set out with a radical idea: to transform the health of the Latino community in Santa Ana, California. Using the principles outlined in Hesperian's classic Helping Health Workers Learn, America set out to create a vibrant network of health promotores and a groundbreaking model for community health.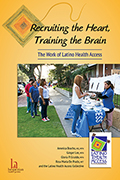 On May 1st, we're publishing Recruiting the Heart, Training the Brain to share the strategies Latino Health Access has developed over 20 years to help anyone organize for health wherever they are.
Latino Health Access promotores work in their community in which they live. They use compassionate and creative health outreach and organizing to reduce diabetes, obesity, and domestic violence, all compounded by the triple threat of poverty, discrimination, and inequality.
When promotores realized that domestic violence incidents spiked around boxing matches on television (studies show the same for upset losses in football), they knew that a community-based solution would be most effective. Promotores worked with community members and a local church to devise a simple, low-cost intervention: to host boxing viewing parties in family-friendly, alcohol-free settings. Domestic violence incidents went down, and a men's group formed to discuss and prevent family violence. 
As Dr. Robert Ross discusses in his moving Preface (which you can read online), this simple and culturally-anchored solution shows how Latino Health Access has tapped into the "wisdom of community" to improve health and happiness through community-centered conversation and care.  
Use our Early Bird Discount for 20% off all pre-orders of Recruiting the Heart until May 1. Just enter the code bookworm at checkout.