Around the globe, extractive industries encroach on indigenous land and pollute rivers and lakes, harming the health of workers, families, and communities. Against the odds, a global movement of people continues to fight back, even when stripped of their land and resources by multinational companies.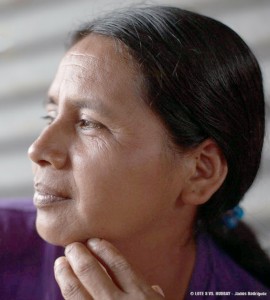 In Lote Ocho, Guatemala, Margarita Caal Caal says that in 2007 uniformed security guards from Canadian-based HudBay Mineral, Inc. broke into her house, gang-raped her, and then set her home on fire. She is joining ten other women who have denounced their attacks in a lawsuit demanding justice, which will be heard for the first time in Canada, headquarters of many of the world's mining companies.
Standing up to extractive industries is neither easy nor safe. We congratulate this year's Goldman Environmental Prize winner, Máxima Acuña de Chaupe of Cajamarca, Peru, who continues to organize and confront US-based Newmont Mining and Peruvian Buenaventura despite beatings, intimidation, and lawsuits.
Canadian and American companies must be held accountable for the harm they inflict on the health of people in poor communities. Too many women and men live with health damaged by water and air pollution, and the loss of lands and livelihoods caused by multinational mining. Until safe mining practices can be found and corporations prove themselves worthy of communities' trust, we agree with the activists who demand, "No mining! Leave it in the ground!"
A Community Guide to Environmental Health offers guidance and activities designed to understand and challenge the root causes of poor health. Community mapping is an example of how to examine health problems to discover their root causes. By mapping where health problems come from, who they affect, and how they're caused by environmental factors such as mining, community members can begin to take charge of their health and resist toxic "development."
On Earth Day, we urge you to stand up, speak out, and act for the health of the planet and people silenced by violence, especially the epidemic of violence inflicted by the mining industry.