Being a mother can be difficult, especially when your options are limited by poverty and little access to health care. Sadly, mothers worldwide confront these obstacles daily. Hesperian is committed to helping women keep their families and themselves healthier by empowering them with practical, easy-to-understand and lifesaving health information.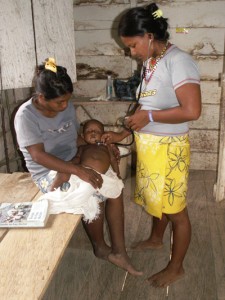 Sunday is Mother's Day. Please honor your mother — and other mothers struggling to keep their families healthy despite the odds — by making a gift to Hesperian.
Every dollar we raise up to $40,000 will be matched — our largest match ever. Your Mother's Day gift will go twice as far to make transformative health information available to women worldwide.
Women across the globe rely on Hesperian for the information they so desperately need. They consult and share information from Where Women Have No Doctor, A Book for Midwives, A Health Handbook for Women with Disabilities, and Health Actions For Women. Women have learned to trust Hesperian materials for clear information on women's health as well as insights into how to challenge discrimination and the religious and cultural beliefs that limit women's access to care.
As you know, the Zika epidemic is most dangerous for pregnant women. As the outbreak of Zika began to spread throughout the hemisphere in January, Hesperian produced widely distributed fact sheets in English, Spanish, French, Portuguese and Haitian Kreyol, all part of our commitment to women's health, and to mothers.
Our continued ability to respond quickly to women's health issues and our partners' needs is made possible by you, our donors. Please make a gift today to honor the mothers in your world.
Thank you,

  Sarah Shannon Executive Director  
P.S. Please help us meet this generous match. Mothers worldwide will benefit from your gift!