Every day in 2015, 830 women died from complications of pregnancy and childbirth. Nearly all these preventable deaths occurred in low-resource settings, with particularly high rates in West and Central Africa, home to just 10% of the world's population, but 30% of all maternal deaths. 54% of West and Central African women give birth without the help of a skilled health worker. Increasing the number of trained midwives could prevent thousands of deaths.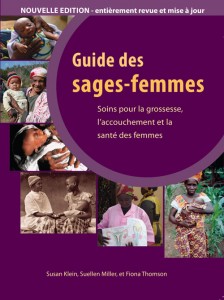 Highly illustrated and written in clear language, Hesperian's A Book for Midwives is an excellent tool for learning the life-saving skills that make a difference in the health and survival of mothers and their babies. Newly available in French, this resource will reach thousands more people in West Africa and other French-speaking countries where it is so crucially needed.
For years, our global partners and readers have asked for a French edition. A Book for Midwives offers a culturally sensitive approach to teaching accurate medical information on healthy pregnancy; preventing and managing obstetric emergencies; facilitating safe labor and birth; breastfeeding; the health needs of new babies; STIs, HIV, and cancer; family planning; helping women when a pregnancy ends early and with abortion; designing low-cost equipment; involving the community in improving women's health; and more.