Through a partnership with the Disability Communications Fund, Hesperian recently completed a distance-learning program with 7 community-based organizations serving people with disabilities throughout California. The pilot program focused on enhancing each organization's capacity to better connect with hard to reach families through the creation of effective outreach materials. Hesperian's expertise with design and translation allowed our team to train staff members at each participating organization on: creating a cohesive look and feel for outreach materials, the principles of design, designing for a web or print medium, and working with translators.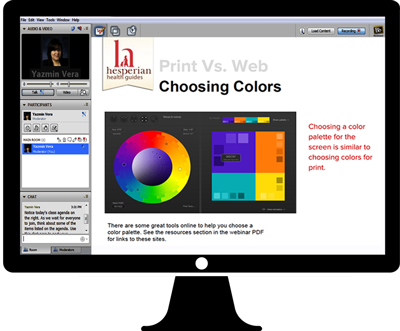 Over the course of a series of webinars and individual coaching sessions, Hesperian presented a wealth of enriching content related to designing and translating outreach materials for maximum impact. Members of the training cohort quite often are not able to spend time and energy on design or translation considerations because their primary responsibility is providing services to their clients and community. Each participant was paired up with a Hesperian staff member to work through issues specific to their project, which ranged from brochure redesign to creation of an enewsletter to rebuilding the user interface of a website.
As a result, participants are better suited to create their own outreach materials going forward, widening the scope of impact their organizations can have by connecting them with more clients, especially those who will benefit from low-literacy, image heavy design elements as well as translation into the languages they speak.
Cohort participants had this to say about the program:
"I needed to create a document that demonstrated the various audiology services that CEID offers. I had a large amount of information that I needed to convey and I was struggling to clearly and concisely present it all. The webinar series taught me how to use the Principles of Design to demonstrate important information to my audience quickly and easily."
— Joe Flynn, Center for Early Intervention on Deafness
"The combination of well-developed power points and coaching sessions allowed me to easily follow along on my own time and take advantage of the coaching sessions. This project allows other agencies to expand their knowledge of these principles and best practices."
— Juan Zepeda, Speech & Language Development Center
"The concept of scale regarding text and photos is very important for us, as we have a lot of information-heavy content on our website. Very helpful to get tips on how not to overwhelm our families and professionals. Support for Families GREATLY appreciates this opportunity and we would recommend this to others in a heartbeat!"
— Ali Barclay, Support for Families of Children with Disabilities