It's been one month since Hurricane Maria ripped through Puerto Rico, yet much of the island is still without basic necessities. People are struggling to cope without clean water, passable roads, electricity, medicines and other supplies. Amidst this backdrop, stories of residents' and aid workers creative efforts are beginning to emerge.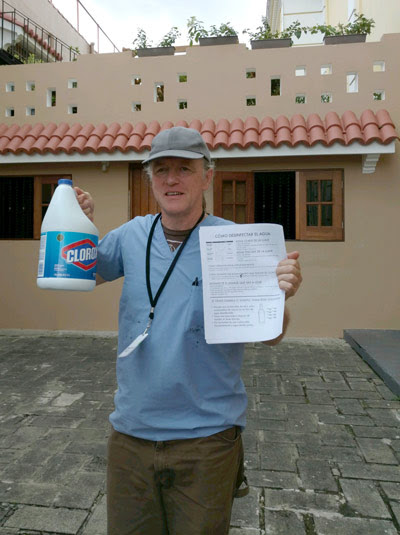 We heard from Michael Terry, an ER Physician's Assistant from Oakland, CA who is using online material from Hesperian's A Community Guide to Environmental Health to show people how to disinfect water with bleach. He reports: "We have found less of a need for medical care and more for prevention…we reoriented the teams to become community health educators. [We] printed up flyers with graphics taken from the Hesperian website…went door to door and taught people how to purify water, treat diarrhea, and clean up mold. Will do the same tomorrow."
Another way to help Puerto Rico is to share hard copy books that people can use as tools to rebuild from within. For example, one Puerto Rican health worker based in Los Angeles plans to take A Community Guide to Environmental Health and Where There Is No Doctor when she travels to the Centro de Apoyo Mutuo in Puerto Rico. Please consider doing the same if you or anyone you know is going to the island. Hesperian's Traveler's Set contains both of these books as well as Where Women Have no Doctor for just $68.95, a 20% savings off the individual prices.