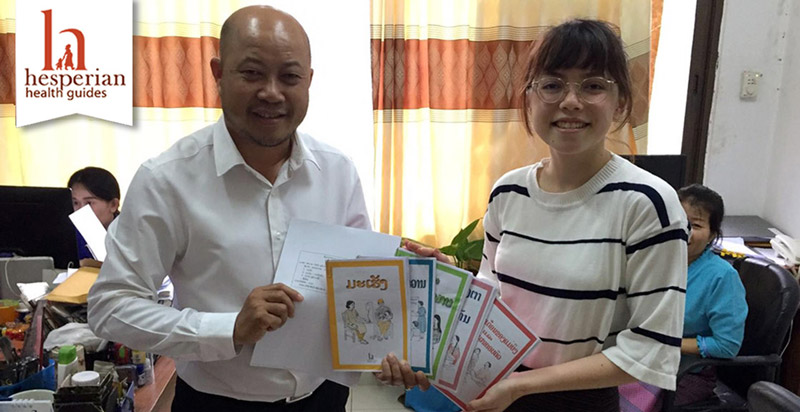 Hesperian would like to introduce you to one of our youngest and most inspiring partners, Namfon Phonsouny. Namfon is a high school student who used her social networking skills to make women's health information more accessible in Laos.
Namfon shared Hesperian's Lao language booklets, translated by Health Leadership International, an organization that works on health care and capacity building for the Lao Ministry of Health, with her peers at school. And she convinced them to share the booklets with their parents, non-profit organizations, and other health advocates in Laos. These booklets eventually made their way to The United Nations Population Fund. The UNPFA-Laos reached out to Hesperian to find out how they could use the booklets in a program designed to educate Lao girls and young women aged 10-19.
Because Namfon was already making great progress in sharing these booklets, we connected her to UNFPA Laos. Yes, a high school student collaborating with a UN organization!
Namfon boldly accepted the task of facilitating distribution of Hesperian's booklets, working with UNFPA-Laos to bring these booklets from the capital of Vientiane into rural Lao villages. Her efforts will result in thousands of girls learning about reproductive health, menstruation, birth control, nutrition, diabetes, cancer and other women's health topics – in their own language. This project has been a wonderful way for Namfon to experience community-based health care and the values of Hesperian first-hand. She has decided to pursue an education in medicine to eventually become a doctor. Hesperian is thrilled to discover another partner who will help us achieve our common goal of getting health information to as many people as possible, in as many languages as possible.