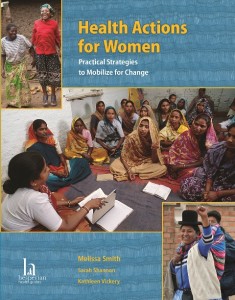 Health Actions for Women:
Practical Strategies to Mobilize for Change
Publication date: February 2015
Health Actions for Women is an innovative resource for women, girls, and their allies working to educate, advocate and mobilize their communities for women's health and rights.
This 352-page print book and online resource share proven strategies and activities to help women and men facilitate community discussions and action around such topics as family planning, sexuality, HIV, and gender-based violence — even in challenging settings where education and organizing for women's and girls' health may be difficult or dangerous. 
Read the full press release. 
Have you used Health Actions for Women in your work? Share your experiences with us.
More information — including book chapters, advance praise, and information about Hesperian's field-testing process with its global partners — is available below.
---
About the Authors
Contact us, Outreach Coordinator, to arrange interviews: [email protected]
Sarah Shannon
Sarah Shannon became Executive Director of Hesperian Health Guides in 1996, after spending 15 years working on health and development issues in war-ravaged Central America. She pioneered Hesperian's collaborative book development model and expanded the boundaries of what is considered primary health care, leading Hesperian to work with grassroots groups internationally in the creation of health materials such as Where Women Have No Doctor, A Health Handbook for Women with Disabilities, the Early Assistance Series for Children with Disabilities, Community Guide to Environmental Health, and Workers' Guide to Health and Safety. Sarah was a founding member of the Peoples Health Movement and served several terms on its Global Steering Council. 

Melissa Smith, MD
Dr. Melissa Smith is a family medicine physician who has worked in community health clinics in Austin, Texas since 1996. She also is a senior lecturer at the University of Texas at Austin, where she teaches a seminar on community participatory research on health disparities. Dr. Smith has helped develop reproductive health training programs for community health workers and midwives and practiced medicine in Nicaragua and Guatemala. She previously served as medical editor for Hesperian Health Guides' Where Women Have No Doctor. She received her B.A. from Harvard and M.D. from University of Washington. In 2012, Dr. Smith received the University of Washington School of Medicine Alumni Humanitarian Award.
Kathleen Vickery
Kathleen Vickery is a bilingual (English/Spanish) editor and translator with extensive experience developing materials related to health promotion, women's health, community-based medicine and health care, and sexual and reproductive health and rights. She has lived and worked for extended periods of time in Mexico, Chile, Ecuador and Cuba, and she holds an M.A. in Latin American Studies from Tulane University.
---
Praise for Health Actions for Women
"No other resource today provides such concrete tools to engage communities and empower women of all ages to build lasting change from the ground up. A triumph!" —Cecile Richards, President, Planned Parenthood Federation of America
"Work problems, financial problems, family problems, health problems — these problems are all interrelated. Health Actions for Women helps poor women get together, identify their biggest challenges, and organize to improve their lives and health in lasting, meaningful ways. Every woman should read the book and take action." —Ela Bhatt, founder, Self-Employed Women's Association of India (SEWA)
"Using this book, we can create enduring change by starting from the experiences of women, by respecting our knowledge, cultures, and traditions, and by bringing our stories to the fore as we envision and work toward a brighter, more just future." —Rigoberta Menchú Tum, Nobel Prize Winner, 1992
"A marvelous 'blueprint for action' that brings together women and their allies to improve health for a whole community. Along with Where Women Have No Doctor, this book kick-starts the imagination to take collective action, especially where women's rights and needs are most neglected." —Judy Norsigian, Co-Founder, Our Bodies Ourselves
"Tools like Health Actions for Women bolster and propel communities' efforts to provide high-quality and timely care for patients whose voices have for too long gone unheard. Such efforts are critical to the advancement of the movement for global health equity and the eradication of so much needless suffering among the world's poor." —Paul Farmer, Co-Founder, Partners in Health
---
Chapters
Chapter 2: Communities Organize for Women's Health

Chapter 3: Gender and Health

Chapter 4: Sexuality and Sexual Health

Chapter 5: Preventing Sexually Transmitted Infections (STIs

Chapter 6: Ending Gender-based Violence

Chapter 8: Healthy Pregnancies and Safe Births

Chapter 9: Preventing Deaths from Unsafe Abortion

Chapter 10: Building a Women's Health Movement

Appendix A: Advocate for Women's Rights




Using International Law

Appendix B: Good Meetings, from Start to Finish

Appendix C: Activities to Encourage Participation

Adapted activities credits

Groups and projects described in this book

Where to get more information
---
About the Field-Testing Process
Health Actions for Women was developed in coordination with community-based organizations and women's health advocates worldwide. Throughout 2012-13, chapters were sent to 40 community-based partners in 23 countries. Field testing brought together diverse groups of younger and older women, groups that mixed adolescent girls with young married women, and mixed gender groups.
Overall, 1,400 people participated in discussions, tried out new activities, and submitted feedback and insights about the issues most important to their communities. View photos of groups using Health Actions for Women and our field-testing map, which shares experiences from our partners around the world.
Examples of Shared Strategies
In Pakistan, field testers from the organization Social Transformation and Educational Prosperity brought together men and women to discuss and test activities from several chapters including "Gender and Safe Motherhood". They had never before attempted to conduct mixed gender discussions on these topics and found overall the experience to be effective and useful and one that they will try to replicate going forward.
For example, in reviewing the Safe Motherhood chapter, the group's discussion of the story about a man from Tanzania who organized emergency transportation for birth emergencies was very engaging for the men. The men who participated in that session have since met again to discuss organizing rapid response to birth emergencies. View more field-testing feedback and stories
The video below shows Hesperian's global partners engaging with the activities and stories in Health Actions for Women.