Hesperian gratefully acknowledges our partners from around the world. Our Funding Partners, Field Partners, Distribution Partners, and Technology Partners provide us with generous financial and organizational support. Hundreds of partners from around the world work with us to develop, update, distribute, translate, and adapt our health guides – we could not do what we do without them! Together we work to make health for all a reality.
Featured Partners
Peace Corps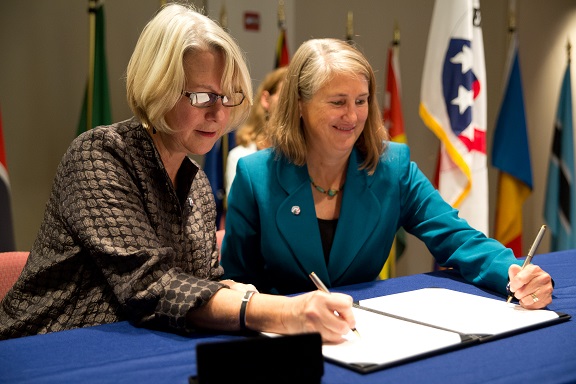 The Peace Corps has been a long-time partner – for decades, our materials have been useful for Volunteers from Zambia to Peru. Our Memorandum of Understanding facilitates the expanded use of Hesperian resources by Peace Corps Volunteers, adn also supports the field-testing and review of these materials in development by Volunteers working with existing community-based groups in their host communities. "Not only are we using the materials," shared Director Hessler-Radlet, "But we're going to help refine them in the field, and help to translate them into new languages. So I'm really excited that, along with being beneficiaries of these products, we are also going to be actively engaged in making sure that they are improved and disseminated."  
UnaMesa Association

UnaMesa Association began working with Hesperian in 2008 and is a key partner, providing us with invaluable support for Hesperian's new digital resource center.  UnaMesa has worked with us to develop and field-test a new tool to let people create their own health materials based on our content, the wiki-based platform to share online content across languages, and supported the development of the Image Library.  UnaMesa also helped to build and test a mobile health application for Android and iPhones. Greg Wolff, the founder of UnaMesa, believes that major advances in health will come from putting appropriate technologies and reliable information into the hands of community health workers served by Hesperian.
Funding Partners
Hesperian's funding partners are integral to our work and we are deeply grateful to them. Current funders include:
Altshuler Berzon
Branson Family Foundation
Branson H. Campbell & Adah F. Hall Charity Fund
California Communications Access Foundation
Cogan Family Foundation
Conservation, Food & Health Foundation
Cornell Douglas Foundation
David & Lucille Gildin Family Foundation
Dorothy & Jonathan Rintels Family Foundation
Equal Exchange, Inc
Erthiopia & Eritrea Returned Peace Corps Volunteers
First Congressional Church of Stockbridge Mission & Action Board
Flora Family Foundation
Gilead Sciences, Inc
International Foundation
K4H
Kazan McClain Partners Foundation
Lakeshore Foundation
Lalor Foundation
Latino Health Access
Left Tilt Fund
Living Goods
OSHA, US Department of Labor
Partnership Foundation
Paul L. Newman Foundation
Public Welfare Foundation
RiseUp Ghana
Sidney Stern Memorial Trust
Sparo Corps
United Methodist Church — Women's Division
Wang-McLaren Foundation
West Foundation
Field Partners
Hesperian guides are developed in close collaboration with our field partners worldwide. Working closely with non-governmental organizations of all sizes helps us develop culturally appropriate, state-of-the art health information. Below is a full list of partners who have helped us to develop, update, translate, adapt and distribute our health guides this fiscal year:
Africa
Foundation Le Tisserin, Burkina Faso
Light for the World, Burkina Faso
Adele Reproductive Health Foundation, Cameroon
Shama Books, Ethiopia
Feed the Children, Kenya
Kabala Women Centre, Kenya
WEMIHS, Kenya
Doctors for Madagascar, Madagascar
HELP Madagascar, Madagascar
Forum for the Development of Youth with Disability (FDYD), Malawi
Life Concern Organization, Malawi
Reach Out Ministries, Malawi
Dokotoro Project, Mali/US
Estamos, Mozambique
Centre for Community Medicine, Nmandi Azikiwe University Teaching Hospital, Nigeria
State Accountability and Voice Initiative (SAVI), Nigeria
African Birth Collective, Senegal/US
Environmnet and Developmnet Action in the Third World (ENDA), Senegal
CBM Regional Office Southern Africa, South Africa
Human Sciences Research Council (HSRC), South Africa
Isibindi National Association of Childcare Workers (NACCW), South Africa
Community Based Initiatives in Health, Water and Sanitation, Tanzania
Fishers Union Organization, Tanzania
Tanzania Home Economics Association (TAHEA), Tanzania
African Network for Care of Children Affected by HIV/AIDS (ANECCA), Uganda 
Health Journalist Network in Uganda (HEJNU), Uganda
Living Goods, Uganda
Kabangwe Creative Initiative, Zambia
Mulumbo, Zambia
Asia
Coordination of Humanitarian Assistance (CHA), Afghanistan
Asian Network for the Rights of Occupational and Environmental Victims (ANROEV)
Bangladesh Center for Worker Solidarity (BCWS), Bangladesh
Bangladesh Institute for Labor Studies (BILS), Bangladesh
Bangladesh Occupational Safety, Health & Environment Foundation (OSHE), Bangladesh
Gonoshasthaya Kendra (GK), Bangladesh
Industrial Bangladesh Council (IBC), Bangladesh
Naripokkho, Bangladesh
One-2-One CAMBODIA, Cambodia
Amity Foundation, China
International Association for Communication and Rehabilitation (IACR), China
Yunnan Health and Development Research Association (YHDRA), China
Timor Aid, East Timor
Asia Monitor Resource Center (AMRC), Hong Kong
Adaiyaalam Publishing Group, India
All India Confederation of the Blind, India
Association for Social and Health Advancement (ASHA), India
Chetana Charitable Trust, India
CREST, India
Gonoshasthaya Kendra (GK), India
Hungchi Ministries, India
Hyderabad Book Trust, India
Jagruti, India
National Institute for Environment and Agriculture (NIEA), India
Samarpan Care Awareness and Rehabilitation Centre, India
Sangram, India
Streehitakarini (SHK), India
Trust for Reaching the Unreached, India
Vidya Sagar, India
Institute for Social Transformation (INSIST), Indonesia
PERDHAKI, Indonesia
Yayasan Essentia Medica, Indonesia
Yayasan Tambuhak Sinta (YTS), Indonesia
Patient's Friends Society, Israel
Scientific Technology and Language Institute (STLI), Kazakhstan
Health Leadership International (HLI), Laos
Mennonite Central Committee (MCC Laos), Laos
Vannasin Publishing, Laos
Association of Mongolians in Wheelchairs, Mongolia
Local Solutions Foundation, Nepal
Rural Health Education Service Trust (RHEST), Nepal
Association for the Rehabilitation of the Physically Disabled (ARPD), Pakistan
Pakistan National Forum on Women's Health (PNFWH), Pakistan
Sindh University Employees Cooperative Housing Society (SUECHS), Pakistan
Swat Youth Front, Pakistan
Stars of Hope Society, Palestine
Help for Peace, Philippines
Silliman University/Marina Mission Clinic, Philippines
Center for Research and Promotion of Community Health (CRPCH), Turkey
Center for Development and Integration (CDI), Vietnam
Nguyen Dinh Chieu School for the Blind Children of Ho Chi Minh City, Vietnam
Project Vietnam Foundation, Vietnam/US
Europe
Agate Center for Women with Special Needs NGO, Armenia
Lotos – Disability Awareness and Learning Center (DALC), Azerbaijan
Lithuanian Library for the Blind, Lithuania
Good Electronics, Netherlands
Liliane Fonds, Netherlands
Handicap International, France/Global
Hazards Magazine, UK
99 Balloons/TeamUkraine, Ukraine/US
Latin America and the Caribbean
Biblioteca Nacional, Colombia
Centro de Reflexión y Acción Laboral (CEREAL), Mexico
Child Family Health International, Mexico
Colectivo de Obreras Insumisas, Mexico
Educación Popular en Salud (EPES), Chile
Gestar Salud, Colombia
Hillside Health Care International, Belize
Midwives for Haiti, Haiti/US
Ministry of Health, Brazil
Pastoral de la Salud, El Salvador
Comité de salud comunitaria de Peten, Guatemala
Santa Maria Tzeja health promotion team, Guatemala
Sustainable Organic Integrated Livelihoods (SOIL), Haiti
Texas Presbyterian Church, Mexico 
North America
Peace Corps, USA
Handicap International, USA
Garment Worker Center, USA
International Campaign for Responsible Technology (ICRT), USA
Labor Occupational Health Program (LOHP), USA
Latino Health Access, USA
Maquila Health and Safety Support Network (MHSSN), USA
National Council for Occupational Health and Safety, USA
Solidarity Center, USA
K4H / Johns Hopkins University, USA
Distribution Partners
African Library Project
Pack for a Purpose
Teaching-Aids at Low Cost (TALC)
Technology Partners
Our technology partners play a key role in the conceptualization and ongoing development of the digital resource center. Our partners include:
UnaMesa, US
Worldreader, US