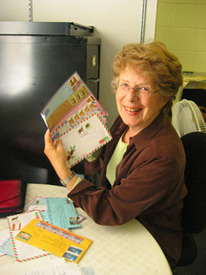 Volunteers are essential to our work. Last year alone we had 233 volunteers contribute over 15,900 hours on projects including translations, mobile apps, impact analysis, the HealthWiki, marketing, and social media. Get to know our volunteers!
If you're looking for a fun way to get involved, we have volunteer opportunities ranging from researching topics for new books to expanding our digital reach to packing books to send around the world. We are also open to your ideas for how you can contribute! You'll gain valuable experience with a non-profit publisher working for social justice. Most volunteers must be able to work in our Berkeley, CA office. E-mail [email protected] for more information.
Perks of being a Hesperian volunteer:
Work for social justice in a community of progressive individuals
Exposure to the inner workings of community-health nonprofit publisher
Learn how to maintain our website and be a part of a team keeping things spiffy
Rewarding, casual environment and great people
Close proximity to UC Berkeley located in downtown Berkeley
Current Volunteer Opportunities
SEO Volunteer 
We are looking for a volunteer to help develop and implement a strategy for search engine optimization (SEO) strategy on Hesperian's website.
Key Requirements
Prior experience in content marketing, content growth and SEO

Working knowledge of search engine optimization practices

Ability to work within a team and independently

Experience with Google analytics

Strong organizational, time management, and analytical skills
Responsibilities
Preparing a strategy report

Identifying powerful keywords to drive the most valuable traffic

Writing effective SEO content for blogs, websites and social media accounts

Sharing SEO knowledge with communications team
To Apply
Google AdWords Volunteer
We are seeking a volunteer to work with staff on increasing the effectiveness and reach of our non-profit Google AdWords account. With resources in over 80 languages on topics ranging from disability health to workers' safety, we hope to expand our scope to reach even more of the people who need our accessible health resources.
Primary responsibilities
Audit our existing 

AdWords

 structures
Improve on our AdWords account by reorganizing and creating new campaigns, editing existing ads, and drafting new ads
Expand our 

AdWords

 using new keywords compatible with both our printed materials and online resources
Document our impact through Google Analytics and AdWords reports
Qualifications
Experience with Google 

AdWords

Strong interest in global health
Attention to detail
Interest or experience in quantitative research
This is an unpaid, 

volunteer

 position.
If you are interested in joining our team, please send a resume and short cover letter to [email protected] with the subject line: Google AdWords Volunteer. Position will remain open until filled.
User Feedback Review Volunteer
Over the years, Hesperian has amassed a wealth of feedback in the form of quotes, stories, and testimonials from people around the world who have used Hesperian materials. We are seeking a volunteer to review this data and monitor new submissions. The volunteer will compile information and work with the Outreach Coordinator to assess the strongest/ most beneficial amongst it. This information will go on Hesperian's website and be used in marketing materials. The volunteer is welcome to contribute ideas on how to best use and present the testimonials, as well as ideas for soliciting new submissions. Email [email protected] for more details.
Foundations Development Volunteer
We are seeking a volunteer to assist with identifying new funding sources. Hesperian continues to expand our collection of books and resources so that our clear health resources cover more topics and are available in additional formats. To fund these efforts we are seeking new grants from foundations.
We are looking for a volunteer who can research potential funders, compile and organize funding research, and assist with writing letters of inquiry to reach out to these funders. The position will also include some data entry and other tasks as agreed on in advance. Our ideal volunteer is comfortable doing internet research and has an interest in global health. Previous experience in development or fundraising is a great asset also, but not required.
The position offers a chance to develop skills and knowledge related to public health, development, non-profit management, and global issues. Hours and specific tasks are flexible but we hope to find someone who would like to volunteer for more than a month.
If you are interested in joining our team, please send a resume and short cover letter to [email protected] with the subject line: Foundations Development Volunteer. Position will remain open until filled.