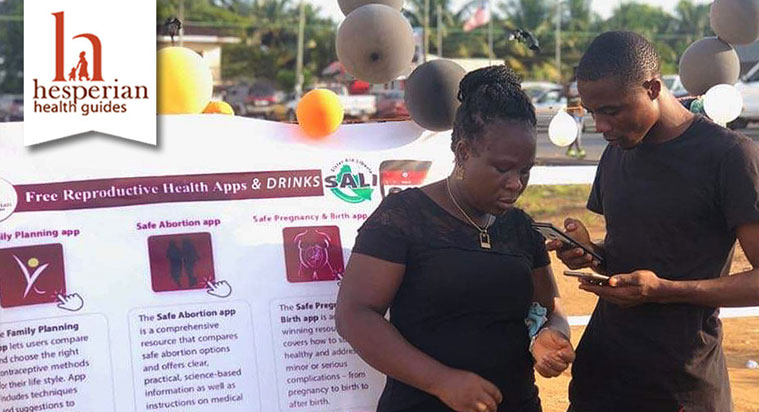 Reproductive justice affects us all. When women have the right to control their own health and life choices, entire societies benefit. To ensure that women around the world are able to control their bodies and are respected no matter their choices, we need men and other community members to take a stand.
That's exactly what Hesperian's Liberian partner Miatta Darwolor was able to achieve when she held an event, mobilizing hundreds of people to advocate for reproductive justice and women's rights. Miatta, the Executive Director of Sister Aid Liberia, printed banners featuring Hesperian's 3 Reproductive Health apps: Family Planning, Safe Pregnancy & Birth, and Safe Abortion. She used her social networks to encourage everyone from youth to grandmothers to download the apps and demand access to reproductive health information and services.
Because access to abortion information and services is highly restricted in Liberia, Miatta's efforts to share the Safe Abortion app with as many people as possible are crucial. According to the medical journal, Lancet, nearly half of the 56 million annual abortions performed around the world posed some threat to the health and safety of the woman. Moreover, the vast majority of unsafe abortions – 97 percent — were performed in developing countries in Africa, Asia and Latin America. Hesperian's Safe Abortion app can prevent thousands of deaths and disability from unsafe abortion. 
The app offers reliable and understandable information about safe methods of abortion, making it a lifesaving resource in places where even talking about abortion is taboo. 
Advocates like Miatta help bring our reproductive health apps to people that may have otherwise not been aware of Hesperian's free digital tools. No matter where you are in the world, you can help spread the word about our essential safe abortion and reproductive health information!
To support #reproductivejustice and #safeabortion, please share the graphic above with your social networks and include a link to our Safe Abortion app: bit.ly/safeabortionapp